Alexis Orgera
Rule of Threes in which the author falls asleep standing up after 17 hours of poetry
1. And so we mark the success of Slash Pine Poetry Festival No. 2: The Year of the Laundromats. Lots of poems about laundry and laundromats.
I don't really know how many hours it was. 40 readers at 10 minutes per over the course of the weekend. Then there were the overages (you can't keep all 40 poets in line, can you?), the undergrad reading, the dinners and bars and making new friends, etc. etc.
Joseph P. Wood puts together a real shindig. There were art galleries, blues singers, bars, bands, poets of all shapes and sizes—and even some fictioners and essayists, though I think they crashed the party. Seats were packed for every venue despite the tornado warnings and thunder so loud I thought I could hear it inside my head.
On a maybe more important note, Joseph took Myron Michael and I to Archibald's Bar-B-Q (see above) in Tuscaloosa, and I ate a plate of the tastiest ribs I have ever had. The sauce on these things was magical.
2. New issue of Sixth Finch: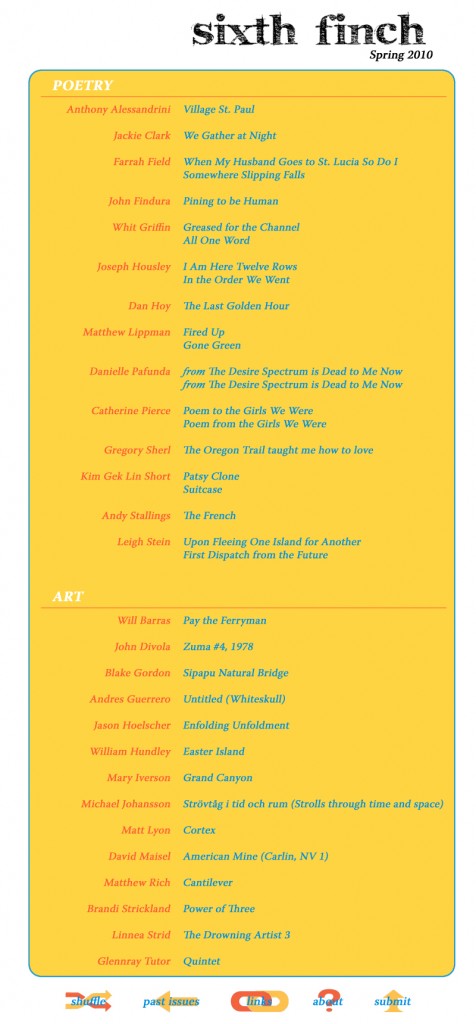 3. I'm re-reading Gabriel Garcia Márquez's Of Love and Other Demons. Here's an interesting moment from the beginning of the book, in which the Marquis and a doctor called Abrenuncio discuss the Marquis's daughter, Sierva María, after a rabies examination:
"She told you many falsehoods," he said, "but that was not one of them."

"She did not tell me, Señor," said the doctor. "Her heart did: It was like a little caged frog."

The Marquis lingered over the inventory of his daughter's other surprising lies, not with displeasure but with a certain paternal pride. "Perhaps she will be a poet," he said.  Abrenuncio did not agree that lying was an attribute of the arts.
"The more transparent the writing, the more visible the poetry," he said.
What a weird place for a treatise on poetry. I don't think poets are liars, even when they're lying. I have a friend who writes in a sort of confessional mode, but most of the facts of the speaker's life are completely made up (meaning they're not the author's bio), and occasionally surreal and fantastical too. We don't think of poetry as fiction, but why?
Tags: bar-b-q, gabriel garcia marquez, of love and other demons, sixth finch, slash pine poetry festival
11 Comments