May 21st, 2009 / 1:52 am
Uncategorized
Blake Butler
Sonora Review 55/56
The forthcoming new double issue of Sonora Review features, among other things, a massive tribute to my man David Foster Wallace, fiction by HTML Guru Ryan Call, local favorites Sean Lovelace and Keith Montesano, and if that's not enough for you to want to buy it, well, just go back to one of our other recent threads arguing about who's a dick and who isn't… dick.
Look: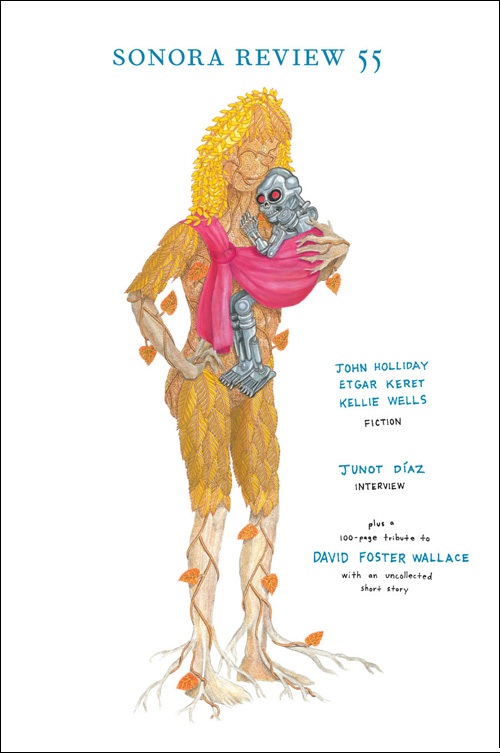 Seriously, this is an issue worth getting excited for. Get off yr butt and order it and whatnot. Here's some more info:
The preorders for the latest Sonora Review issue, featuring an expansive in-addition-to-the-awesome-fiction/non-/poetry-lineup Wallace tribute section, including the uncollected Wallace story, Solomon Silverfish, essays and reflections from Sven Birkerts, Michael Sheehan interviewing Tom Bissell, Charles Bock, Marshall Boswell, Greg Carlisle, Jonathan Franzen, Dave Eggers, Ken Kalfus, Glenn Kenny, Lee Martin, Michael Martone, Rick Moody interviewing Michael Pietsch, and art and prose from Karen Green, will have shipped by (NOW!). We've had a wonderful response, and while issues are still for sale they're no longer available through paypal: just follow the check mailing instructions below and you should be able to get your hands on this truly remarkable issue, which also includes new work by Aimee Bender, fantastic short-short contest winners, and interviews with Marilynne Robinson, Junot Diaz, Ron Hansen and Ben Marcus.
Uh, duh. Let's go!
Tags: dfw tribute, sonora review
10 Comments