sonora review
1. Sonora Review jump-jacked their flash fiction contest deadline. It is now May 1 (Bach's death-day). Joe Wenderoth is the final judge. It pays a cool G (or 4000 draft PBRs in little plastic cups at Egan's, Tuscaloosa, Alabama.)
It's dirty, it's dark, it's loud, and it's VERY smoky.
2. Or: A student on Tuesday asked "Why write if you are not going to publish?" Fair enough, BUT. Have you ever played chess on a back porch? Ever swam in a river, with no intention of crossing? The discussion blossomed. Writing as enjoyable play? Period.
3. Ever lipped something 100% not yours but kick ass at a reading and told no one? Ever. It is VERY fun. Try it. (Stories welcome)
4. Lit and gaming going to keep stadium lamping/furry cheeking one another. You can feel it, prickly on your skin. If Cage is right, both about the stakes and the merits of his creation, then gaming could be about to embark on an extraordinary transition, and in 20 years' time, the people who make these games could be as fêted and culturally imposing as Ken Loach, Zadie Smith or Simon Rattle.
5. Used to be authors could sell their "letters" and maybe retire (or at-least cash in for those final years). It was a rite of passage for the big dogs. Like a reverse-benefactor.  UT is the bumbledom/fangs (they believe) of all this. But. With email, IM, vid chat, what record will exist? What letters? What drafts? DELETE. Lost pinky drive. DELETE. Maybe it's all for the better? DELETE.
6. Here is your Meat Joy because we all like that sort of thing. Meat and Joy.
httpv://www.youtube.com/watch?v=D6AK9TI3-LU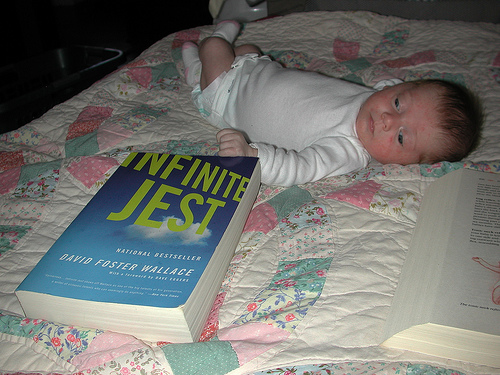 Again, some bits from the Sonora Review DFW Tribute Issue, which I'm still reading through; this time I've excerpted Rick Moody's interview of Michael Pietsch, who edited Infinite Jest while at Little, Brown. The whole interview is interesting, as Pietsch talks about how he acquired IJ, how he and Wallace worked together to edit it, and how 'it felt as if [they'd] published a book that mattered, and that would last.' Pietsch calls it 'one of the great thrills' of his working life.
Of the editing process, Pietsch says that 'every decision was David's. I made suggestions and recommendations and tried to make the reasons for them as clear as possible. But every change was his.'
After the jump, you'll find some responses Wallace made to Pietsch's requests for cuts.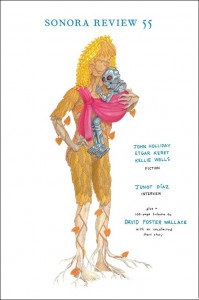 Last Tuesday afternoon, someone in my Introduction to Fiction class asked me if we would ever read a 'happy' story this semester, and I didn't know how to answer. I didn't feel comfortable saying 'no' or 'yes,' because I have a hard time understanding what is a happy story and what is a sad story. For those who don't know, all of our readings have come from The Anchor Book of New American Short Stories, and we're about to start reading My Happy Life by Lydia Millet for the novel portion of the course. I like to think that the kinds of things we're reading are somewhat varied; however, another student disagreed, and criticized the selections Ben Marcus had made. The student pointed at what Marcus says in the introduction ("What I found in my reading was an amazing range of styles, beliefs, methods, ideologies, and instincts.") and commented that despite the differences Marcus intended to show, the stories in the anthology, in the student's opinion, are all generally sad and depressing. And if we categorize stories that way, and if we assume that we share the student's definition of sad, then there isn't much variety in that, right?
But, and this is my question, are there really happy stories and sad stories? If they exist, how do you define one or the other, or is it even a matter of one or the other?
The forthcoming new double issue of Sonora Review features, among other things, a massive tribute to my man David Foster Wallace, fiction by HTML Guru Ryan Call, local favorites Sean Lovelace and Keith Montesano, and if that's not enough for you to want to buy it, well, just go back to one of our other recent threads arguing about who's a dick and who isn't… dick.
Look: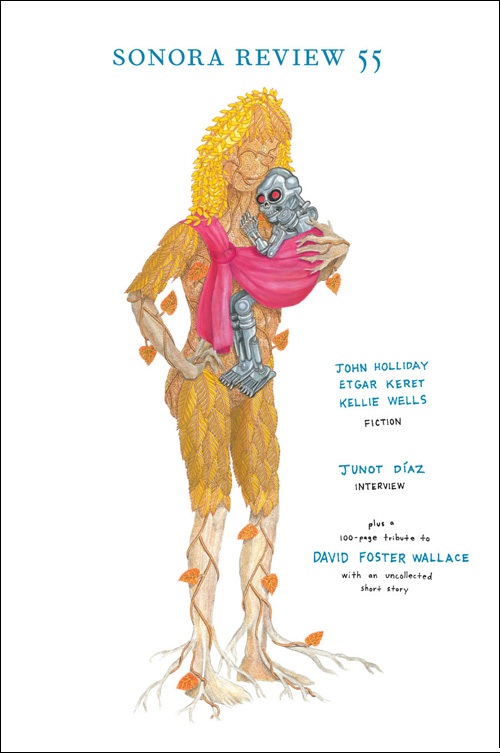 Seriously, this is an issue worth getting excited for. Get off yr butt and order it and whatnot. Here's some more info:
The preorders for the latest Sonora Review issue, featuring an expansive in-addition-to-the-awesome-fiction/non-/poetry-lineup Wallace tribute section, including the uncollected Wallace story, Solomon Silverfish, essays and reflections from Sven Birkerts, Michael Sheehan interviewing Tom Bissell, Charles Bock, Marshall Boswell, Greg Carlisle, Jonathan Franzen, Dave Eggers, Ken Kalfus, Glenn Kenny, Lee Martin, Michael Martone, Rick Moody interviewing Michael Pietsch, and art and prose from Karen Green, will have shipped by (NOW!). We've had a wonderful response, and while issues are still for sale they're no longer available through paypal: just follow the check mailing instructions below and you should be able to get your hands on this truly remarkable issue, which also includes new work by Aimee Bender, fantastic short-short contest winners, and interviews with Marilynne Robinson, Junot Diaz, Ron Hansen and Ben Marcus.
Uh, duh. Let's go!