September 7th, 2009 / 10:36 am
Uncategorized
Justin Taylor
THE AGRICULTURE READER'S LABOR DAY SPECIAL—DISCOUNTED COPIES OF ISSUE 3 UNTIL THE END OF SEPTEMBER!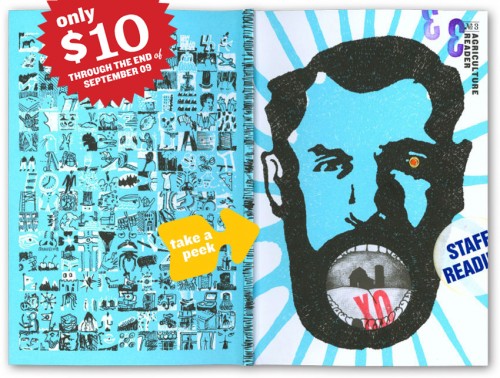 Fellow Workers,
We here at limited-edition arts annual The Agriculture Reader know that times are tough. The paper of record says '09 was the worst back to school season in years! We're feeling it, too. No, not because we're under-employed and lack health insurance (though yes, that too) but because we're trying to unload the last of our stock of AGR 3 in order to fund the production of AGR 4. To that end, from Labor Day till the end of September, we will be selling AGR 3 for a measly TEN DOLLARS. Your sawbuck gets you the current issue of our annual, which features writers such as Dennis Cooper, Heather Christle, Ariana Reines, Diane Williams, Matthew Zapruder, Christian Hawkey, Eileen Myles, Matvei Yankelevich, and many more. Some of the best work is by people you've maybe never even heard of, like Jen Hyde. All this plus a special section celebrating the work of the poet Tony Towle—and that's just the words. The whole issue is custom-illustrated by the artist Joey Parlett, and all the layout and design work is done by Amy Mees and Mark Wagner—a dynamic duo, if there was one—and there was (is). Every cover is cut, stamped, stickered and colored on by hand, so each copy is unique. There are only 600 total in the world, and more than half of them are already gone. (The first two issues both sold out; we expect that this one will too.)
So those are all the reasons you will love our magazine, and why it is a good value for your money. But there's another reason to consider buying now, which is that you like us, and are excited to see what we do next. AGR 4 is entering the late stages of manuscript and is almost ready to be handed off to layout & design (ie Amy and Mark). All the money that comes in goes back to the project. Nobody gets paid for their efforts, and we don't have 501(c)3 status, so the only way to show your love/interest is to place an order. Even if you already have an AGR, maybe you know somebody who wants one, or maybe you want an extra one because you took the grommet out of the cover of your contributor copy and used it to re-grommet a pair of your jeans (*ahem*, Mark Doten). Also, there's other stuff for sale there too, including poetry books and posters of Joey Parlett's amazing sandwich art from the issue, so even if you absolutely don't want an(other) AGR, you probably do want some of that stuff.
Thanks, and Happy Harvesting,
Justin, Jeremy, Amy & Mark
Tags: Agriculture Reader, X-ing Books
4 Comments