January 12th, 2012 / 3:31 pm
Random
Mike Meginnis
The Hero's Body
This post is an essay about comic books and sex. These are things I am thinking about because of a book I am writing.
In May of 1962, the brilliant scientist Bruce Banner rushed into the site of an experimental gamma bomb detonation in order to save a teenager, young Rick Jones, from the blast. Banner stood at the blast's center. His body absorbed a massive dose of gamma radiation. Banner soon found that when he lost control of his temper, he would become the Hulk, a super-strong, bulky monster with green skin and the collective smarts of a box of rocks. The Hulk was originally more of a monster than a hero, back when monster books still sold; Stan Lee created him by combining him with Frankenstein's creature and the Hyde of Jekyll and Hyde. He also compared him to the golem. The Hulk looks like this:
In January 1981, Jennifer Susan Walters was shot by mobsters. To save her life, her cousin Bruce Banner offered his blood for a transfusion. The gamma radiation turned her into the She-Hulk.
Wikipedia explains the pragmatic reason for the creation of She-Hulk:
She-Hulk was created by Stan Lee, who wrote only the first issue, and was the last character he created for Marvel before his return to comics with Ravage 2099 in 1992. The reason for the character's creation had to do with the success of the Incredible Hulk TV series (1977–82). Afraid that the show's executives would suddenly introduce a female Hulk, resembling the popularBionic Woman, Marvel decided to publish their own version of such a character to make sure that if a similar one showed up in the TV series, they would own the rights.
She-Hulk looks like this: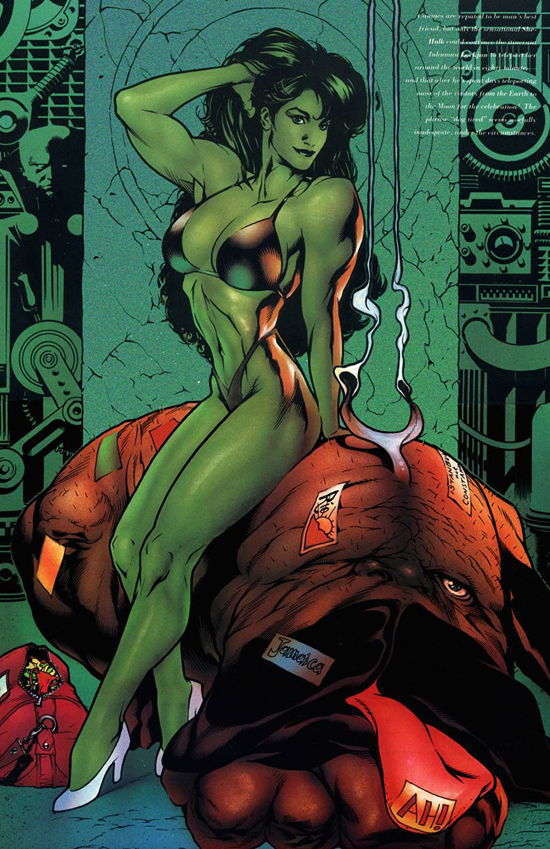 You can't really call her a "Hulk." The Hulk is a character named for his shape. It's not an especially appealing shape, sexually speaking. There are maybe two women alive who see the Hulk and think, "I'd like to kiss that hulk," or "I'd like to have sex with that hulk." (I would guess there are about two thousand men who have thought the same, but two at most who would admit it.) But you're supposed to want to kiss She-Hulk. You're supposed to want to fuck her body.
Wikipedia:
Power Girl is the Earth-Two counterpart of Supergirl and the first cousin of Kal-L, Superman of the pre-CrisisEarth-Two. The infant Power Girl's parents enabled her to escape the destruction of Krypton. Although she left the planet at the same time that Superman did, her ship took much longer to reach Earth-Two.

Possessing superhuman strength and the ability to fly, she is a member of the Justice Society of America and the team's first chairwoman. Power Girl sports a bob of blond hair; wears a distinctive white, red, and blue costume; and has an aggressive fighting style. Throughout her early appearances in All Star Comics, Power Girl was frequently at odds with Wildcat, who had a penchant for talking to her as if she were an ordinary human female rather than a superpowered Kryptonian, which she found annoying.
Power Girl looks like this: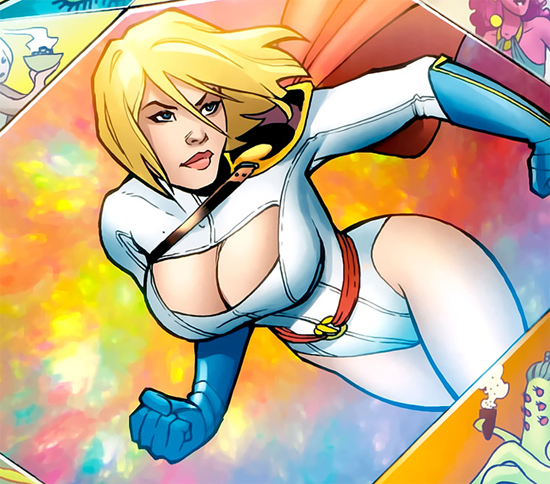 I will admit that I've got decades of training in this matter, that Marvel Comics and to a lesser extent DC had a major role in wiring my sexual desires from a young age. But the only honest response to a body drawn and framed in this way is to want to fuck it. Not because it's appealing, though maybe for you or me or someone else we know it is, but because this body wants it, is designed for it, presents itself in such a way that can clearly send no other message. (There is no possible other reason for the tit window.) They really do call her Power Girl. The power they mean is not the power that they say they mean. This is an open secret.
It's not that I have a problem with pornography. I support it. And my point is not that hero comics are sexist. (Though they are.) (I don't think the point really needs to be argued.)
What fascinates me here is the total lack of self-awareness represented by She-Hulk. I can imagine another kind of She-Hulk: one with a body that matches her name. The character is immediately more engaging. (The dark crevices of her body. The way she would smell. The incredible strength. Her shadow on a wall like a pile of other shadows. Her voice; what would her voice be like? How does she feel? What does she want? Will she take what she wants?) But our collective imagination apparently cannot accept such a creature. The creators of She-Hulk raise the spectre of this other, stranger creature, a true hulk, and then they substitute this bikini model, never realizing the fact of their own substitution.
It isn't that I think comics should stop being sexy. What amazes me, consistently, is the limitations of their erotic imagination. Superman's body is arguably fuckable in some depictions, I think, though he goes to great pains to live an image so cold and hollow that no reasonable person would ever want to fuck him, most of the time; so are the bodies of some of the male X-Men, in the hands of a better artist. Most male heroes are wrapped in layers of muscle so thick, hard, crude, and ugly that the mere thought of hugging them repels.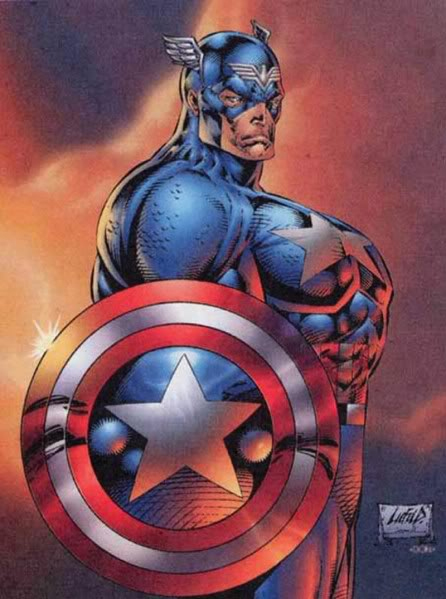 This is cruel, even emotionally and sexually abusive, to the young male readership of hero comics, who would probably benefit from spending several minutes imagining warm, tender embraces with their heroes. (We imagine that the point of reading hero comics is to imagine yourself as the hero, but I would posit that it is equally or more common to imagine your father or your friend in the role.) These young men might benefit, indeed, from imagining enacting kindness on those bodies rather than super-powered brutality. We apparently need to be protected even from the possibility of the thought of our own homosexuality. Male heroic bodies must be grotesques, placed beyond the reach of our desire.
And female heroic bodies must appear safely and easily fuckable, though their bodies are ostensibly dangerous; Power Girl could tear off your head, She-Hulk could dismember you with no effort at all; their bodies must disguise these facts. Pillow-soft breasts, baby-making hips, and waists that you could fit your hands around, thumb-to-thumb and fingertip-to-fingertip. We fundamentally do not know how to imagine a heroic body for a woman. We are too afraid that the results might not be sexually pleasing. Or, perhaps worse, that they would be: that they might touch some primal, secret need.
Tags: comics, Power Girl, She-Hulk, super heroes, Superman, the Hulk
13 Comments