February 19th, 2009 / 12:37 pm
Uncategorized
Justin Taylor
Torpedo #4: Richard Brautigan tribute issue, now available!
My contributor copy of Torpedo #4 showed up the other day, and it's such a wild, exciting jam-packed ball of awesome that I can barely even tell you. I've been a fan of Torpedo–the quarterly published by Australian indy press Falcon vs. Monkey, Falcon Wins ever since they solicited some of my work for issue two, but totally irrespective (or anyway, independent) of how generous they've been to me, they've so thoroughly outdone themselves with #4, the BRAUTIGAN issue, that I'd be writing this same blog post even if I'd never met them and couldn't testify personally to their friendliness and general stellar-osity. Here's the little blurb about #4 from their site (click thru to go to their store) and after the jump there's a short Q&A with editor Chris Flynn, some excerpts from the issue, scans of some of the art, and a full T.O.C.
Commemorating the 25th anniversary of his untimely death, Volume 4 is a tribute issue to Richard Brautigan. Fiction from 40 writers including Brian Evenson, Ryan Boudinot, Dan Pope & Caren Beilin. Comes free with a nifty envelope containing 8 full colour double-sided pieces of art based on Brautigan's novels and stories by Dylan Martorell, Mehgan Trice & Eirian Chapman. An intro by Brautigan's daughter Ianthe, an outro by Radiohead illustrator Stanley Donwood and a cover by L.A.'s Kristian Olson. Get one before they sell out and fall in love with one of the greatest unsung writers of the 20th Century.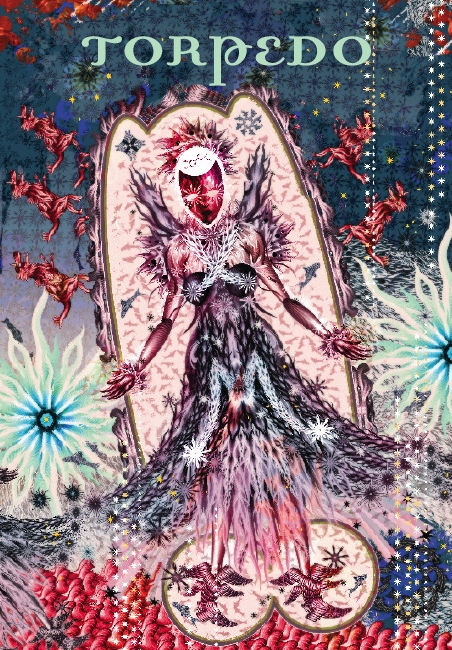 TORPEDO #4 TABLE OF CONTENTS
Sharing My Father – Ianthe Brautigan-Swensen
The Invisible Advisor – Chris Flynn
Horse – J. David Stevens
The Couch and the Stream – Ryan Boudinot
Roman Numerals – Ros Almond
Michael, Winter – Jon Bauer
An Autoeroticabiography – Alicia Sometimes
A Very Beautiful Way to Start – Josephine Rowe
Armenian Trout – Sean Casey
Pickles – John Holton
Your Darker Dot – Caren Beilin
Arithmetic – Jonty Bell
Suburban Expectations of the Literati/2008 – Andy Murdoch
Beneath the Periwinke Watertower – Ryan Crawford
THE POETRY OF RICHARD BRAUTIGAN: "All Watched Over by Machines of Loving Grace," "My Insect Funeral," "It's Raining in Love," "The Octopus Frontier," "A Boat," "Propelled by Portals Whose Only Shame," "Up Against the Ivory Tower," "Deer Tracks," "We Meet. We Try. Nothing Happens. But," "Homage to the Japanese Haiku Poet Issa," "Taxi Drivers Look Different from their Photographs," "The Pumpkin Tide"
THE FICTION OF RICHARD BRAUTIGAN: "Women When They Put Their Clothes on in the Morning," "A Need for Gardens," "1/3, 1/3, 1/3," "A Sea of February Orchard Blood" (from So the Wind Won't Blow it All Away), "Red Lip" (from Trout Fishing in America), "In Watermelon Sugar" (from In Watermelon Sugar), "Motorcycle" (from A Confederate General from Big Sur), "Hawaii Revisited (from The Hawkline Monster: A Gothic Western, 1974)
[NOTE: the short stories are all from a collection called Revenge of the Lawn –JT]
A Death at Big Bend – Ben Jahn
A Quick Description of the Thirteenth Track – Adam Golaski
Ray – David Beattie
It's Not the Heat so Much as the Jelly – Shawn Mitchell
I House a Collection of Brautigan's Work – Phil McNamara
A Timid Work Friendship – Adam Ford
Obelisk – Chris Flynn
Rackatucci – Kris Allison
Weasel – Brian Evenson
Kingdom of Seashells – Luke May
The Literary Life in Connecticut/2008 – Dan Pope
The Grateful Dead – Justin Taylor
Memorial – Stanley Donwood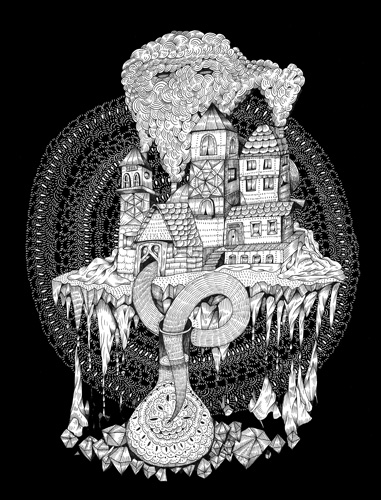 A Q&A WITH TORPEDO EDITOR CHRIS FLYNN
How did the idea of a Brautigan tribute first come about? What drew you to the particular extracts from his work that you chose?
Brautigan was one of those writers I kept expecting to have a renaissance but it never seemed to happen. After McSweeney's released their '145 short stories in a small box' collection early last year I began wondering if Brautigan's Revenge of the Lawn wouldn't fit in quite nicely as the fourth volume in that collection, alongside Eggers, Unferth & Manguso. When I read through some of my old Brautigan titles I realised that the 25th anniversary of his death was coming up. After that, it was a no-brainer. I decided if no one else was going to talk about him, at least I could.
The extracts I chose for Torpedo 4 probably sum up what I like most about Brautigan – his immediacy and his impact. The number of people who tell me that they don't like poetry but they do like Brautigan is endlessly amusing. He draws you in straightaway and makes you feel him sitting there, writing. That is incredibly hard to do without coming across as an asshole. A lot of writers try to do it and fail. Brautigan makes it look easy, which makes him important as a writer who can encourage other writers to practice their art and learn how to really write like hell. Plus he can do surreal without it sounding stupid, and anyone who says that's easy is a damn liar.
At what point did you get in touch with his daughter, Ianthe, and what role did she play in the process of putting this issue out?
I found Ianthe teaching writing in California and contacted her through the school. This was when I first had the idea and before I'd spoken to anyone about it. She was instantly gracious and excited, though I think a fair amount of serendipity was involved. As you can read in her intro, she had just reconciled herself to the idea of her father's words being out in the world again. Remember, Brautigan was savaged mercilessly by critics and after his death Ianthe withdrew completely from the world of literature, only popping up briefly to talk about it when she could. Ianthe and I read all the tribute stories as they came in and agreed on a selection, whilst she worked on her intro. Her health has been poor lately but I have been pestering her to write fiction of her own. Expect to see her name in Torpedo again in the future.
I feel like I know Torpedo pretty well at this point, having contributed to a couple issues and now following you regularly, but I still don't know a whole lot about your press. How long have you been running Falcon Vs Monkey Falcon Wins? What sort of books do you publish? Would you say you have a particular mission, and if so, what is it?
We've been around just over a year and we're very small. At the moment Torpedo is our only title and it will probably stay that way for a while. The whole thing is funded out of my salary as a car park attendant, and Eirian's as a junior graphic designer. We work out of the spare room in my house. It's not exactly glamorous. I'd like to publish novels and a few other things but I can't see it happening anytime soon. We're basically trying to use our design, illustration and writing skills to produce a quarterly that looks and reads better than anything else that is out there, and that includes the 'big boys.' We have no real urge to have it stocked in shops everywhere or to make any money from it. Torpedo is basically a piece of art that comes out every three months that showcases the work of other people we know all over the world, because we love what they are doing and feel they're just like us. It's not a commercial venture and doesn't have to be anything other than what we want it to be, which is the ultimate freedom. If you're going to be an indie publisher, you might as well forget about all the bullshit that surrounds commercial publishing and just do the absolute best you can with the resources you have. Keep your print runs small and your books spectacular.
I get the impression there's a vibrant lit scene/community down in Australia, but despite knowing you guys—and the folks at The Lifted Brow—it's a little hard for me to conceptualize, since I'm so far away. What does the scene/community look like? Where do you see your/FvMFW/Torpedo-'s place in it?
It's a lot smaller than you might think. Australia has a population of less than 20 million and is enormous, with only half a dozen major cities. It's a very outdoors and sporting nation, so the literary scene in general is tiny and had been dead for years. It just so happens that a few publications sprang up all at once recently, so it probably appears more vibrant than it actually is. Certainly The Lifted Brow and ourselves have succeeded in drawing international attention because of our inclusion of overseas writers. Most of the other journals/mags tend to focus on local writers, which is great but for my money pretty limiting. Even the more established journals that have been around for decades have very small print runs and can be hard to get a hold of. Put it like this – Australia is a lovely place to live and to produce a literary venture, but no one here is going to buy it or support it. Most of Torpedo's sales are overseas, which is a shame as we do champion lots of neglected local writers, but that's just the way it is. Most citizens here would rather kick a ball in the air or go for a swim, and with the sun beaming down all the time, who can blame them?
Having said that, the people behind all these journals do know each other and we have awesome parties. In fact if we didn't have each other to lean on we'd probably roll up in a ball and weep.
What does the future hold for Torpedo, and for Falcon?
I just received my subscription of The Paris Review in the mail and you know what—I'm sorry, but Torpedo 4 is way better in so many ways—the design, the colour section, the writing, the paper stock, the fonts, the connection with a young literary community. What does all that mean? Well, nothing I guess. They are a venerated institution with a big distribution network and a wide readership and they couldn't care less about us. But that doesn't detract from the deeply satisfying fact that we're beating them at all the important things. When we started Torpedo we wanted to take on some institutions, and I think we're doing it. That's what we want to continue to do, in our own small way, just for kicks and giggles.
Tags: richard brautigan, torpedo 4
26 Comments