November 25th, 2008 / 3:05 am
Uncategorized
Blake Butler
Trickhouse 3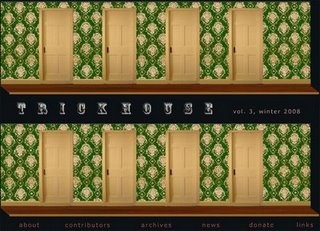 I wonder if you google Trickhouse if you can find local whores. Probably everything you google ends up at whores eventually.
Anyway, you don't need google, cause here's a link: TRICKHOUSE.ORG
Curated by Noah Saterstrom, the house just keeps getting trickier.

Featuring

visual artist: Eric Baden
writers: Brenda Iijima, Rebecca Brown, Michelle Naka Pierce
guest curator: Miriam Kathrein
sound: Andrew Klobucar
video: Abigail Child
correspondent: Erik Anderson
interview: Mathias Svalina with Shelton Walsmith
experiment: Denise Uyegara with Natalie Nguyen
Videos, experimental, an emphasis on visual art, language shits, et al. I really like the videos ('Blonde Fur' is particularly eerie.) and the roomy layout. Trickhouse is dope.
Tags: brenda iijima, noah saterstrom, trickhouse
4 Comments