September 12th, 2014 / 9:55 am
Random
Melanie Page
Virtual Book Tour: Désirée Zamorano

Mercy Amado has raised three girls, protecting them from their cheating father by leaving him. But Mercy's love can only reach so far when her children are adults, as Sylvia, Celeste, and Nataly must make their own choices to fight or succumb, leave or return, to love or pay penance. When tragedy strikes in Sylvia's life, Mercy, Celeste, and Nataly gather support her, but their familial love may not be enough for them to remain close as the secrets in their histories surface. Forgiveness may not be accepted. Fiercely independent, intelligent, they are The Amado Women.
Today is the last stop of Désirée Zamorano's virtual book tour celebrating her new novel. Below, read a bit about Désirée's life as a writer, one that should not be chosen lightly.
More years ago than I care to admit I sat at a Bouchercon (mystery) conference and listened to the writer Patricia Sprinkle speak about the "seasons" in a writer's life. I had two small children, taught 5th grade, and had committed myself to carve time out of my day to write. But, I had given myself a daily quota that I was daily unable to make. Ms. Sprinkle's presentation reminded me that there would be different seasons in my life and to not beat myself up for being unable to make my arbitrary quotas. I took her words in, deeply.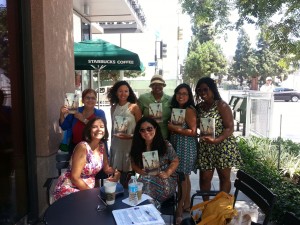 For decades I had one dream: to have a traditionally published novel that I could find on the shelves of a bookstore or library. Ten years ago, overwhelmed by unrealized dreams, and by what seemed like vain hopes and years' worth of hours of writing (all these words—to what purpose?), I remember lying in bed and praying for God to excise this writing aspiration from my heart. Instead, I found a book that saved my artist's soul: Making a Literary Life by Carolyn See.
Today is a very different time. Right now, I feel like the poster child for perseverance. When Cinco Puntos accepted my book, which would realize my dream, I released all the bitterness and resentment of my pre-published life. And I realized how ridiculous I had been, all these many years, to allow one thing to define me. One. How ludicrous. What, as they say in the psychology biz, a cognitive distortion. I wouldn't wish it on my nemesis. Well, maybe.
My family teases me about my penchant for self-help books, but without Stephen Covey's 7 Habits I might not have discovered that you have to do the most important thing first. Sometimes it's writing your novel, sometimes it's not. Along with writing new words for a work in progress, this summer has been filled with promoting The Amado Women. I've learned to tweet, manage an events page on Facebook, as well as how much fun it is to answer questions from an admiring group at a book club. I spent hours drafting, rehearsing, tweaking a talk to make it seem as natural and friendly as possible for my ten minutes of fame at my local bookstore. Afterwards, an audience member said it was as if I were a bottle of champagne, joyfully uncorked.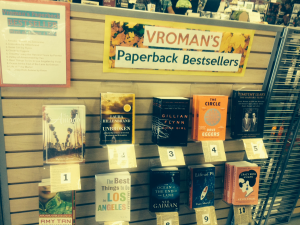 Fall now brings me back to my position at Occidental College. I derive a lot of joy from the work I do at our Community Literacy Center in the afternoons—and it leaves my mornings for my writing. My writers' group, comprised of encouraging voices, meets monthly. There has been a social media explosion in my life, so I limit myself to an hour daily, connecting with or affirming other writers online. More days than not, I am writing new words. I don't know which season Patricia Sprinkle would say I am in, but in my writer's heart it's spring.
***
Did you miss out on the rest of the tour? Check out this page to see where Désirée has been this past week to catch other great content and to purchase The Amado Women!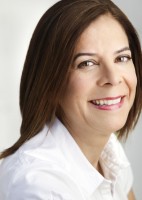 Désirée Zamorano is Pushcart prize nominee, and award-winning short story author. She has wrestled with culture, identity, and the invisibility of Latinas from early on, and addressed that in her commentaries, which have appeared in the Los Angeles Times and NPR's Latino USA. She delights in the exploration of contemporary issues of injustice and inequity, via her mystery series featuring private investigator, Inez Leon (Lucky Bat Books). Human Cargo was Latinidad's mystery pick of the year.
The Amado Women has been listed among 5 Must-Read Books for Summer 2014 by Remezcla, and has been named among Eleven Moving Beach Reads That'll Have You Weeping in Your Pina Colada by Bustle.
3 Comments
September 26th, 2014 / 7:55 am BLOOMERS AT LARGE: The Promise to Bloom | Bloom—

[…] her novel The Amado Women. Wrapping up the tour at the lit mag HTMLGiant, she paused to reflect on the experience of publishing the novel. Zamorano's essay is candid about many things one might not expect a writer to share freely—the […]

February 15th, 2015 / 1:58 am Virtual Book Tour: The Amado Women | Grab the Lapels—

[…] 9/12 The last stop is HTML Giant, where the author concludes by describing the life of a writer–the sad bits, the uplifting […]

July 4th, 2015 / 8:12 pm The Amado Women | Grab the Lapels—

[…] 9/12 The last stop is HTML Giant, where the author concludes by describing the life of a writer–the sad bits, the uplifting […]