David Fishkind
Watching The Twilight Zone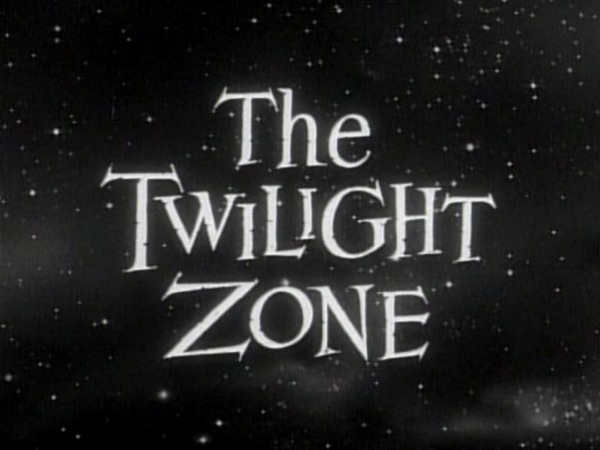 A few weeks ago, the lymph nodes along my neck suddenly swelled up.  I had a doctor check it out and he determined I had strep throat, and then a week later, added mononucleosis to the diagnosis.  Sort of a one-two punch of undergraduate illness.   I didn't feel that sick, and suffered little symptoms other than the inflamed globules along my jugular, but it became clear to me, getting drunk off three beers and exhausted at 5pm, that I should probably take it easy.  My regular leisure, after school, work, and whatever other responsibilities I've lined up for myself on a given day, is to kick back with a few-to-several beers and do things on the internet.  The doctor recommended I avoid this, so there was only one viable solution to passing time at the same rate and pleasure level: watch TV.  I am one of those lucky enough to have acquired a password to my friend's Netflix Instant Watch account, and, after watching The Larry Sanders Show, Archer, The Stand miniseries, My So-Called Life, and The League in their entireties, I noticed that The Twilight Zone original series had been recently added to the queue.  Though perhaps the most referenced and acclaimed cult series in history, I must admit, I'd never seen one episode.  I resolved, then, it would be my next big tackle in my imperial takeover of internet television.
It did not take me long to discover that The Twilight Zone is well loved for a reason.  Engaging, dark, frequently hilarious, and truly American, it kept me deeply invested in each strictly 25-minute sequence through the first season, 36 episodes, which I watched within a week.  What was it, though, that was so different about this show from others?  I pondered the question.  The situations were dated, the acting flawed, the storylines repetitive.  But there was something deeply poignant in the form.  How every episode turns on a perfect pivot, almost never expected, and bearing considerable cultural and emotional weight.  I started viewing the series as acutely literary in essence.
The Twilight Zone is of a dead genre.  I challenge you to find a modern show that relies on an entirely fresh cast and plot every week, which covers a vast amount of social commentary and dives headfirst into the nature of human consciousness.  The series was one of the most powerful and innovative aesthetic challenges that I can think of in recent history.  It addresses perception, cognition, psychosis, alienation, judgment, revenge, the limits of time and space, the fears, mystery, and glory of war, all within the emerging American middle-class.  It presents fantastic elements of possibility in a time when the reaches of science, politics, and technology were unparalleled.  The Cold War was imminent, the rebel of youth was beginning to show its face, and the suburb had claimed a life force.
The resulting effects of the show are undeniable. Though a piece of a larger puzzle constructed by the emerging suburban middle class, its absolute bizarreness and originality separate the series, heaving it up on the shoulders of influence.  Marketing, film, and modern humor can all trace roots back to the program.  More interesting, perhaps, is its discernible effect on literature. Think Robert Coover's "The Babysitter," which was published in 1969, ten years after the premier of The Twilight Zone.  This critical, disturbing, amorphous glimpse into the American climate is reminiscent of the stomach-turning and perplexing imagery and suggestion of the science fiction masterpiece.  John Cheever's "The Jewels of the Cabbots" launched a new approach to temporality, priority, and alienation in personal history and relations.  And one cannot possibly overlook the Zone's effect on DeLillo's acclaimed White Noise.  The middle class anxieties, estranged family, and immense fear of death, all playing out below the hovering cloud of chemical disaster, draws directly from Rod Serling's comical fear-tactics.
Each week, Serling worked to capture the imagination and empathy of his viewers through a world so much like our own.  The science fiction twists were like throwing acid on suburban realism (Kmart realism even).  A man goes to his high power office career to discover his entire existence is devised as a character in a movie.  An alien spacecraft lands outside a town and it takes nothing but a simple disruption of technology to set a neighborhood up in violent arms against one another.  A man, fed up with the expectations of his work and home life, jumps off the train to a supposedly nonexistent nineteenth century town of tranquility.  We readers, and writers, owe a lot to The Twilight's Zone's insistence on strangeness, and its strictness and attention to form.  Like the short story, the un-serial weekly program requires excruciating time, risk, and balls, although unfortunately we see few of these as 1959 was a time of twin-room media impotence.
Think about the authority and history of these efforts the next time you want to bust your ass on 3500 words for three months.  I know I will.  Or don't, that's okay.  Maybe just watch the show.  We could all use the company.
Tags: Don DeLillo, John Updike, robert coover, short fiction, twilight zone
34 Comments