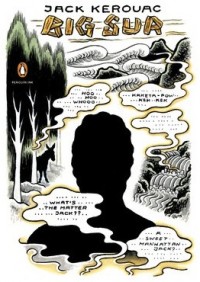 Big Sur
by Jack Kerouac
Penguin Ink, 2011
224 pages / $12.84 buy from Amazon
1. The movie, based on Jack Kerouac's book, based on Big Sur, 36.1075 °N, 121.6258 °W.
2. Voiceover beginning to end, front to back.
3. I think of all the times I've been to Frisco, ages 5, 6, 7, 9, 9, 9, 11, 20, 21, 22, 23, 24 and 28.  I think of City Lights, North Beach, Sea Otters, Strip Clubs, Merry-Go-Rounds, Mirrored Ceilings, Fake IDs, Suspension Bridges, Soccer, Coffee and Bread.
4. Boredom. On my fifth birthday there were too many children and too many presents. In the backyard my father starred in Oscar the Grouch's Cooking Show. He juggled raw eggs and ate tuna fish/jellybean/sauerkraut sandwiches. There were words the whole time but nobody talked.
5. Iodine blast. Iodine: A novel by Haven Kimmel from a song by Leonard Cohen from iodine, I, atomic number 53. From my mother's skin before I was my mother's.
6. Big Sur: A descent into madness, a portrait of hell, a catalogue of imperfections.
7. When I read the intimate details of our lives out loud it hurts less.
8. Things included but not mentioned in this essay: words, cigarettes, stars, beer, wine, whiskey, sand, waves, women, rhymes, slow motion, flames, bottles, trees, water, haze.
9. City Lights is my second favorite bookstore in America. Anthony Edwards as Lawrence Ferlinghetti. Anthony Edwards as Dr. Mark Greene in ER, the longest running primetime medical drama until it wasn't. Dr. Mark Greene eating a Chicago Hot Dog over the Chicago River on a break from Chicago's Cook County General Hospital. When I eat a Chicago Hot Dog over the Chicago River I think of Sandra Bullock, not Lawrence Ferlinghetti. I never liked ketchup.
10. FACT: Second movie I've seen in two weeks about the beats. Third movie on Jack I've seen in five years.
11. The Soundtrack. The National. More beautiful than you might think. The best hangover I've ever had. The one where I fell in love. Voices on the screen and on the page and in his head and in mine. How do they do it without words?
12. Q: What are the reasons we travel to the west coast?
A: Beatniks with their dandy clothes.
13. The live-action audiobook: a new genre pioneered by director Michael Polish.
14. Does love cause madness or madness love cause?
15. Desire to forget caused by what we remember. We wait for an idea or a bottle or a woman.
16. Sunlight through log cabin walls. Oxygen in thin air. Water in earth. The bottle wares off so you look for beginnings.
17. "A little blond experienced in all the facets of love making." Michael knows.
18. A quick Google search of the actor who plays Kerouac/Duluoz reveals a receding hairline, different from the three-dimensional sideburns on the movie screen. Overcompensation.
19. Kerouac, buried in Lowell, where I went for a campus visit at seventeen and almost went to college, but didn't because OH MY GOD WHY WOULD ANYONE GO TO LOWELL.
20. "I'd begun to realize in my soberness that this thing had come too far, that I don't love Billie, that I'm leading her on, that I made a mistake dragging everyone here, that I simply want to go home now, that I'm just plumb sick and tired just like Neil I guess…
I suddenly wonder if she's going to horrify the heavens and me too with a sudden suicide walk into those awful undertows. I see her sad blonde hair flying, the sad thin figure, alone by the sea, the leaf-hastening sea, 'You were my last, chance' she's said but don't all women say that? Can it be I'm withholding from her something sacred just like she says, or am I just a fool who'll never learn to have a decent eternally minded deep-down relation with a woman and keep throwing that away for a song at a bottle?"
21. Q: What are the reasons we think we want to travel to the west coast?
A: A postcard from North Beach:
Recipe for Happiness in Khabarovsk or Anyplace
One grand boulevard with trees
with one grand café in the sun
with strong black coffee in very small cups
One not necessarily very beautiful
Man or woman who loves you
One fine day.
– Lawrence Ferlinghetti, aka Anthony Edwards, aka Dr. Mark Greene.
22. Madness and love cannot coexist.
23. If the choice is solitude or death, it's already been made. It's beautiful.
24. "All my tricks laid bare"
25. "There's no need to say another word."
Tags: 25 Points, Big Sur, Jack Kerouac, Penguin, Penguin Ink