Big Sur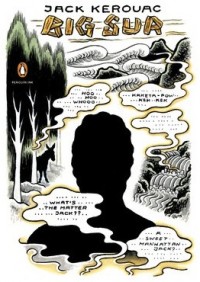 Big Sur
by Jack Kerouac
Penguin Ink, 2011
224 pages / $12.84 buy from Amazon
1. The movie, based on Jack Kerouac's book, based on Big Sur, 36.1075 °N, 121.6258 °W.
2. Voiceover beginning to end, front to back.
3. I think of all the times I've been to Frisco, ages 5, 6, 7, 9, 9, 9, 11, 20, 21, 22, 23, 24 and 28.  I think of City Lights, North Beach, Sea Otters, Strip Clubs, Merry-Go-Rounds, Mirrored Ceilings, Fake IDs, Suspension Bridges, Soccer, Coffee and Bread.
4. Boredom. On my fifth birthday there were too many children and too many presents. In the backyard my father starred in Oscar the Grouch's Cooking Show. He juggled raw eggs and ate tuna fish/jellybean/sauerkraut sandwiches. There were words the whole time but nobody talked.
5. Iodine blast. Iodine: A novel by Haven Kimmel from a song by Leonard Cohen from iodine, I, atomic number 53. From my mother's skin before I was my mother's.
6. Big Sur: A descent into madness, a portrait of hell, a catalogue of imperfections.
7. When I read the intimate details of our lives out loud it hurts less.
8. Things included but not mentioned in this essay: words, cigarettes, stars, beer, wine, whiskey, sand, waves, women, rhymes, slow motion, flames, bottles, trees, water, haze.
9. City Lights is my second favorite bookstore in America. Anthony Edwards as Lawrence Ferlinghetti. Anthony Edwards as Dr. Mark Greene in ER, the longest running primetime medical drama until it wasn't. Dr. Mark Greene eating a Chicago Hot Dog over the Chicago River on a break from Chicago's Cook County General Hospital. When I eat a Chicago Hot Dog over the Chicago River I think of Sandra Bullock, not Lawrence Ferlinghetti. I never liked ketchup.
10. FACT: Second movie I've seen in two weeks about the beats. Third movie on Jack I've seen in five years. READ MORE >