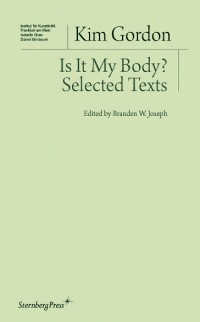 Is It My Body?
by Kim Gordon
Sternberg Press, 2014
182 pages / $18.86 buy from Amazon
1. Kim Gordon the New York City artist is one and the same with Kim Gordon, bassist of Sonic Youth.
2. Despite her claim, "I don't think of myself as a musician," whether they're "on hiatus" or not, the band's music remains the central association by which readers are likely to recognize her name.
3. I'm no diehard fan of Sonic Youth. Although I do, after a fashion, dig their music and several years ago saw them play The Crystal Ballroom in Portland, OR.
4. This is no tell-all. Sonic Youth is more an afterthought than anything here, a near excuse to remain creative—though no less central to Gordon's life.
5. Gordon's reasoning for taking part in Sonic Youth: "Being part of a music culture or subculture appealed to me more than staying outside and commenting on it in a work of art."
6. This book zooms. It's a sonically charged brain charge; a light breeze to read yet nevertheless heavily informative. Contents range from Gordon's first published texts from the early 1980s rather seamlessly on up to a conversation she had with sometime-fellow collaborator Jutta Koether, not even a year ago.
7. Gordon skirts the edges of official art gallery/curator talk, usefully dipping into its discourses only to flaunt her independence from reliance upon them to express her thoughts. While postmodern, avant-garde, theory-driven vocabularies and accompanying ideas are occasionally floated and tussled with, they're smoothly exited from without distracting from the natural style of her writing.
8. Gordon tells of only useful and/or interesting things, both historical and eternal.
9. "One of the appeals of seeing No Wave bands in New York early on was that it was such a strangely abstract music. It was very free and very abstract. If you didn't have any means to enter the galleries as an artist, being in a band was a way to be expressive and be independent of the gallery system."
10. Unedited: "How many grannies wanted to rub their faces in Elvis's crotch and how many boys wanted to be buttfucked by Steve Albini's guitar?"
11.  "The only time I actually felt like an outsider on stage is when Iggy Pop came onstage to sing, "I Wanna Be Your Dog." Lee and Thurston felt pretty much at home with this, whereas I felt, wow he's taking my place" […] "Leave it to a man, the Ig, to express the freakiness of being a woman better than she can. I felt like such a creampuff next to the real thing."
12. Gender is messy. Stuck within this chunk of meat, the body leaves only a desire to escape.
13. What's with the body in performance anyway? "What have I got / That makes you want to love me? / Is it my body?" – Alice Cooper, "Is It My Body"
14. The challenges, conundrums, and various unhealthy (to the imagination) mental debris which Gordon repeatedly describes the necessity of facing off against— whether it is for herself or her own take on how other artists of various practice go about it— continue to this day.
15. This book is of assistance in seeing how one might go about confronting and overcoming the hassles of artistic desire. How to deal with that quintessential drive 'to be an artist' and end up with something that one way or another is—or perhaps, even isn't—Art.
16. "For artists, showing videos or performing in clubs seems to offer the possibility of affecting a part of the "real world." But because of the utopian nature of the club environment, it is difficult for the work to be taken seriously. Instead of affecting the "real world," it remains trapped within the bounds of a playground environment. Clubs, like alternative spaces, gain institutional power through what they promote or sponsor. In the end, "alternative spaces" such as The Kitchen or Fashion Moda become better known than anything they show, and in a similar way rock clubs gain prestige through their art events. The clubs attract a non-art-world audience who do not know why it is "chic" to be there, but just that they should be there."
17. This is no handbook on how to be cool or hip.
18. Full of one-of-a-kind approaches to life and art, this is an example of what it means to know the work and be at work: the ongoing deluge.
19. Life vs. Art: What? Art is Life: Life is Art. The work is ongoing.
20. Keep pushing your Art as hard as you push your Life. Exploring the unknown corners just as you would any unfamiliar city. Get into new territories. Get dirty.
21. "To achieve perfection or purity of form in music is impossible because there is nothing pure about music except a style that is part of the tradition of classical music and made modern by 'new music' composers such as La Monte Young, Phil Glass, and Steve Reich. Once you include the musicians as individuals a certain amount of control is given up and the music can then be allowed to be impure and potentially more exciting."
22. Various manipulations of appearances, both aural and visual, lie at the heart of these writings.
23. The Series Editors claim that Gordon "is a role model and a great source of inspiration for generations of artists, musicians, and writers who believe in the necessity of transcending disciplines."
24. Readers should expect some challenges. Few will be familiar with the specifics of every club, musician, artist, and venue covered, yet alone be as readily able to move between discourses as Gordon does with the greatest of alacrity.
25. "An instant classic." You better believe it: "That's what I would mean by 'anarchist'–the unpredictable white female."
Tags: 25 Points, Is It My Body, Kim Gordon, Sternberg Press