Is It My Body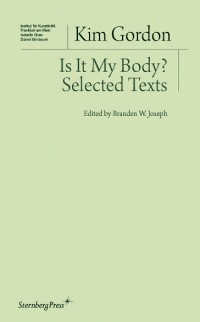 Is It My Body?
by Kim Gordon
Sternberg Press, 2014
182 pages / $18.86 buy from Amazon
1. Kim Gordon the New York City artist is one and the same with Kim Gordon, bassist of Sonic Youth.
2. Despite her claim, "I don't think of myself as a musician," whether they're "on hiatus" or not, the band's music remains the central association by which readers are likely to recognize her name.
3. I'm no diehard fan of Sonic Youth. Although I do, after a fashion, dig their music and several years ago saw them play The Crystal Ballroom in Portland, OR.
4. This is no tell-all. Sonic Youth is more an afterthought than anything here, a near excuse to remain creative—though no less central to Gordon's life.
5. Gordon's reasoning for taking part in Sonic Youth: "Being part of a music culture or subculture appealed to me more than staying outside and commenting on it in a work of art."
6. This book zooms. It's a sonically charged brain charge; a light breeze to read yet nevertheless heavily informative. Contents range from Gordon's first published texts from the early 1980s rather seamlessly on up to a conversation she had with sometime-fellow collaborator Jutta Koether, not even a year ago.
7. Gordon skirts the edges of official art gallery/curator talk, usefully dipping into its discourses only to flaunt her independence from reliance upon them to express her thoughts. While postmodern, avant-garde, theory-driven vocabularies and accompanying ideas are occasionally floated and tussled with, they're smoothly exited from without distracting from the natural style of her writing.
8. Gordon tells of only useful and/or interesting things, both historical and eternal.
9. "One of the appeals of seeing No Wave bands in New York early on was that it was such a strangely abstract music. It was very free and very abstract. If you didn't have any means to enter the galleries as an artist, being in a band was a way to be expressive and be independent of the gallery system."
10. Unedited: "How many grannies wanted to rub their faces in Elvis's crotch and how many boys wanted to be buttfucked by Steve Albini's guitar?"