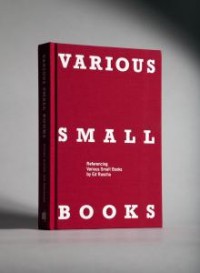 VARIOUS SMALL BOOKS: Referencing Various Small Books by Ed Ruscha
Edited and compiled by Jeff Brouws, Wendy Burton, and Herman Zschiegner
Text by Phil Taylor, with an essay by Mark Rawlinson
MIT Press, 2013
288 pages / $39.95 buy from MIT Press or Amazon
1) "An evil word it is this love." – Amiri Baraka (LeRoi Jones)
Perhaps the closest I've ever come to an original Ed Ruscha was working at the Graduate Theological Union (GTU) Library over in Berkeley up on the hill next to the University of California in 2002 or so. There was an art exhibit lasting several months of "religious art" or maybe it was "ideas of evil in art"… which included Ruscha's one-word painting "Evil" (blood stains on satin) in its ever terrifically seducing red.
2) Or it may have actually been earlier than that, in the basement room at poet Tom Clark's house in Berkeley on break from Poetics classes waiting for the bathroom. If, that is, it's true that the tall horizontal painting of a semi-masked figure (some kind of postmodern Lone Ranger?) on one wall is in fact a Ruscha self-portrait. Which I hazily recollect being told by somebody sometime later on—or is it that it was a portrait of Ruscha done by Tom?
3) Regardless, my real introduction to Ruscha came via Jeffrey Karl Butler formerly of Portland, Oregon. Jeff once sent me a chair through the mail. An Eames-inspired piece. He knocked off the feet attaching various caps from an assortment of common household items in their place. The chair was sitting in my apartment vestibule beside the mailboxes when I came home from working at the GTU one day. Without packing or anything, a USPS shipping label smacked onto the front of the seatback, "LEGS" stenciled atop the back of the seatback, and under the seat stenciled "JKB '01".
4) "Fifty years ago, in 1962, Edward Ruscha published Twentysix Gasoline Stations, the first of a series of photobooks the artist made through the 1960s and 1970s. Consisting of black and white photographs of twenty-six filling stations situated along Route 66 between Los Angeles and Oklahoma, this deceptively simple book, much like Marcel Duchamp's Fountain (1917), irrevocably altered our understanding of art."
– Mark Rawlinson
5) The gist of Various Small Books is to document every photobook "known as of May 31, 2012, with apologies for anything omitted" which one way or another continues, extends, or otherwise is in conversation with Ruscha.
6) A short text describing each photobook accompanies one or more photographs of the project. Many are also accompanied by a full two-page spread of images from out the photobook.
7) Photobooks are grouped in chronological order by year of publication: 1954-1987 (five projects), 1991-2000 (seven projects), 2002-2006 (twenty-two projects), 2007-2008 (nineteen projects), 2009 (fifteen projects), 2010 (seventeen projects), 2011 (five projects).
8) The first photobook presented is Ginza Kaiwai and Ginza Haccho by Shobachi Kimura and Yoshikazu Suzuki published in 1954. This boxed set of two volumes contains Ginza Kaiwai "an extensive history of the neighborhood of Ginza," complete with photographs and maps, while "alongside this conventional book is a concertina volume, Ginza Haccho, with two parallel photographic panoramas of every building on the avenue Ginza 8-chrome between Shinbashi and Kurobashi bridges." The impact of "a western influence" on this neighborhood is noticeable in the photographs and although it's an open question whether Ruscha ever knew of "this remarkable predecessor" the possibilities are too enticing not to risk "anachronism or attributing influence where perhaps none existed."
9) Ruscha's Every Building on the Sunset Strip appeared thirteen years after Ginza Kaiwai and Ginza Haccho.
10) Some other photobooks likewise concerned with a specific strip of commercial or otherwise set of buildings: Robert Venturi, Denise Scott Brown, and Steven Izenour's Learning from Las Vegas, Robbert Flick's Parade Route, Jean-Frédidéric Schnyder's Zugerstrasse Baarerstrasse, Jonathan Monk's None of the Buildings on the Sunset Strip, Edgar Arceneaux's 107th Street Watts, Stan Douglas' Every Building on 100 West Hastings, and Keith Wilson's Every Building on Burnet (burn-it) Road.

11) Many of these, but not all, follow Ruscha's presentation format of continuous panoramic shots in an accordion construction booklet.
12) Some, as with Douglas or Arceneaux, focus on a single city block while others, such as Wilson, cover several miles of road.
13) "Douglas digitally stitched together 21 images taken over the course of a single night."
14) "I had a vision that I was being a great reporter when I did the gas stations. I drove back to Oklahoma all the time, five or six times a year. And I felt there was so much wasteland between LA and Oklahoma City that somebody had to bring in the news to the city. It was just a simple, straightforward way of getting the news and bringing it back. I think it's one of the best ways of just laying down facts of what is out there. I didn't want to be allegorical or mystical or anything like that."
– Ed Ruscha
15) Dutch artist Gabriel Lester's Sixtytwo Gasoline Stations represents a winnowing down of the "over 400 gas stations" he photographed "during a six-week road trip from Lima, Peru to Quito, Ecuador." While preparing to publish his project he heard "Ruscha had done something similar over 40 years earlier. Undeterred, he decided to publish 62 of his gas stations, creating a numerical palindrome with Ruscha's 26."
16) Several pictures from Picturing Ed: Jerry McMillan's Photographs of Ed Ruscha 1958-1972 appear throughout. These are the first photos of Ruscha I'd ever seen. He's presented with one or more of his own books in every photo. "He was always a willing model."
17) Ruscha's A Few Palm Trees sparks a wide range of entries: Mark Ruvedel's One Thousand Two Hundred Twelve Palms ("the 1212 palm trees of this book's title refers not to an arboreal census depicted photographically, but rather to a sum of the numbers in Southern California desert place names containing palm"), Clara Pioux's Nineteen Potted Palms (minimalist photos of these "non-native strangers in France" that are "left floating on the bare white page" and "housed in a dark green wood-slatted plant box or chartreuse pot, never to truly lay down roots"), and Jeff Brouws' Twentynine Palms ("draws its titular directive from the California town" however has "a different palm in mind, assembling a typology of signs promoting those roadside mystics who claim access to a higher knowledge writ in the lines of a hand" and thus "maps an alternate, mystical topography of the American cultural landscape.")
18) "Ruscha's photobooks broke the ground so that the Various Small Books gathered here might exist: appropriating, questioning, deconstructing, following or mimicking"
– Mark Rawlinson
19) The back pages of Various Small Books contain a "Ruscha Redux Catalogue" listing a total one hundred twenty-five photobooks. Thirty-five of which are not featured within the book's pages, two of which are a "project where the artist noted they had not been referencing Ruscha."
20) On the other hand, Various Studios and Homes Inhabited by Ed Ruscha by Chris Svensson documents numerous Ruscha physical abodes over the years.
21) Tanja Lazetic's Nine Swimming Pools Behind A Broken Glass "consists of digital video stills in which a figure in a red dress strikes the glazing of framed promotional images of swimming pools with a hammer."
22) Taro Hirano's Foreclosure features abandoned swimming pools whose "parabolic walls have become canvasses for graffiti artists and half-pipes for opportunistic skateboarders whose wheels leave stretch-like streaks. A trespassing skater hops a backyard fence in the final image."
23) A few further photobooks: Kim Stringfellow's Twentysix Abandoned Jackrabbit Homesteads, Tom Sowden's Fiftytwo Shopping Trolleys (in Parking Lots), and Julie Cook's Some Las Vegas Strip Clubs.
24)  "In plain sight but overlooked, the gas station excites an interest in Ruscha; there is also something of an alchemical epiphany […] Ruscha's prescient "death" as "author/artist" and his appropriation of the dry, factual register […] find new, critical focus when viewed through the category of the interesting […] it is his overpowering "interest in the interesting" that should give us pause […] this is not an act of idiocy but a complex and driven effort to make sense of the world"
– Mark Rawlinson
25) This is a book of books about things. Interesting things.
Tags: 25 Points, Herman Zschiegner, Jeff Brouws, Mark Rawlinson, MIT Press, Phil Taylor, VARIOUS SMALL BOOKS: Referencing Various Small Books by Ed Ruscha, Wendy Burton