Phil Taylor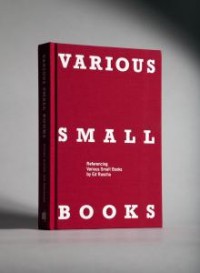 VARIOUS SMALL BOOKS: Referencing Various Small Books by Ed Ruscha
Edited and compiled by Jeff Brouws, Wendy Burton, and Herman Zschiegner
Text by Phil Taylor, with an essay by Mark Rawlinson
MIT Press, 2013
288 pages / $39.95 buy from MIT Press or Amazon
1) "An evil word it is this love." – Amiri Baraka (LeRoi Jones)
Perhaps the closest I've ever come to an original Ed Ruscha was working at the Graduate Theological Union (GTU) Library over in Berkeley up on the hill next to the University of California in 2002 or so. There was an art exhibit lasting several months of "religious art" or maybe it was "ideas of evil in art"… which included Ruscha's one-word painting "Evil" (blood stains on satin) in its ever terrifically seducing red.
2) Or it may have actually been earlier than that, in the basement room at poet Tom Clark's house in Berkeley on break from Poetics classes waiting for the bathroom. If, that is, it's true that the tall horizontal painting of a semi-masked figure (some kind of postmodern Lone Ranger?) on one wall is in fact a Ruscha self-portrait. Which I hazily recollect being told by somebody sometime later on—or is it that it was a portrait of Ruscha done by Tom?
3) Regardless, my real introduction to Ruscha came via Jeffrey Karl Butler formerly of Portland, Oregon. Jeff once sent me a chair through the mail. An Eames-inspired piece. He knocked off the feet attaching various caps from an assortment of common household items in their place. The chair was sitting in my apartment vestibule beside the mailboxes when I came home from working at the GTU one day. Without packing or anything, a USPS shipping label smacked onto the front of the seatback, "LEGS" stenciled atop the back of the seatback, and under the seat stenciled "JKB '01".
4) "Fifty years ago, in 1962, Edward Ruscha published Twentysix Gasoline Stations, the first of a series of photobooks the artist made through the 1960s and 1970s. Consisting of black and white photographs of twenty-six filling stations situated along Route 66 between Los Angeles and Oklahoma, this deceptively simple book, much like Marcel Duchamp's Fountain (1917), irrevocably altered our understanding of art."
– Mark Rawlinson
5) The gist of Various Small Books is to document every photobook "known as of May 31, 2012, with apologies for anything omitted" which one way or another continues, extends, or otherwise is in conversation with Ruscha.
6) A short text describing each photobook accompanies one or more photographs of the project. Many are also accompanied by a full two-page spread of images from out the photobook.
7) Photobooks are grouped in chronological order by year of publication: 1954-1987 (five projects), 1991-2000 (seven projects), 2002-2006 (twenty-two projects), 2007-2008 (nineteen projects), 2009 (fifteen projects), 2010 (seventeen projects), 2011 (five projects).
8) The first photobook presented is Ginza Kaiwai and Ginza Haccho by Shobachi Kimura and Yoshikazu Suzuki published in 1954. This boxed set of two volumes contains Ginza Kaiwai "an extensive history of the neighborhood of Ginza," complete with photographs and maps, while "alongside this conventional book is a concertina volume, Ginza Haccho, with two parallel photographic panoramas of every building on the avenue Ginza 8-chrome between Shinbashi and Kurobashi bridges." The impact of "a western influence" on this neighborhood is noticeable in the photographs and although it's an open question whether Ruscha ever knew of "this remarkable predecessor" the possibilities are too enticing not to risk "anachronism or attributing influence where perhaps none existed."
9) Ruscha's Every Building on the Sunset Strip appeared thirteen years after Ginza Kaiwai and Ginza Haccho.
10) Some other photobooks likewise concerned with a specific strip of commercial or otherwise set of buildings: Robert Venturi, Denise Scott Brown, and Steven Izenour's Learning from Las Vegas, Robbert Flick's Parade Route, Jean-Frédidéric Schnyder's Zugerstrasse Baarerstrasse, Jonathan Monk's None of the Buildings on the Sunset Strip, Edgar Arceneaux's 107th Street Watts, Stan Douglas' Every Building on 100 West Hastings, and Keith Wilson's Every Building on Burnet (burn-it) Road. READ MORE >