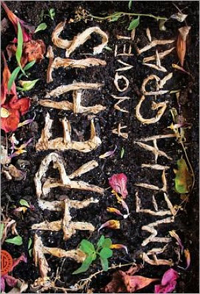 Threats
by Amelia Gray
FSG Originals, February 2012
288 pages / $14  Buy from Amazon
You're in someone else's body but you're not really in someone else's body, you're in your own body, lying next to someone else's body. "An embarrassment of childhood odor" – is it coming from your body? – steams around you, and you may or may not be wearing a fireman's suit. This is what it feels like when Franny dies.
Franny: a large woman who wears five layers of lipstick and "smells like stones." Franny: your wife. How she died, although you were there with her when she did, remains a mystery, even to you. A mystery: this is what it feels like to live.
This is also what it feels like to read Amelia Gray's debut novel, Threats, out from Farrar, Straus and Giroux last month. To read it is to succumb to the emotional torpor and physical disorientation that is life after the death of a loved one. This means: a fair amount of hallucination, an undertone of deep sadness, intermittent boredom, and shots of curious paranoia. This means: laughing out loud and worrying that you shouldn't be laughing because, hello, someone died and life is sad. This means: being as confused as David (our numb hero) is when he receives the "threats" the book is named for, finding a terrifying note in the crack behind the mirror, not worrying about what it means, or else worrying a lot, wondering who the hell has left it for you, who might be out to get you, and if Franny might be – tragically, for that would mean she's left you – still alive.
These are the mysteries that propel this novel, but then again, this novel is more about sitting still.
Sitting still in the house he inherited from his father (or moping through the surrounding snow in his bathrobe), David watches as the world as he knows it decomposes. This decomposition is both figurative – death as erosion of life – and literal. Ants have taken up residence in his bed, and he sleeps under stacks of magazines, papers, and his late wife's coat. The garage has been taken over by swarms of wasps and a psychotherapist named Marie. "…a layer of dust and skin and hair particles [has] built up over the wood floor." The threats only contribute to the grimness of the domestic landscape: "I will lock you in a room…until it fills with water," one says. Or "My truth will cause atomic snow upon your sweet-smelling lambs and children." As odd as they are bleak, the threats both mirror and derail David's mourning and recovery.
And so it goes in the work and mind of Amelia Gray – mirrors, mourning, and magic; this stuff is literary quicksilver. In flashes of poetic prose, Gray deftly challenges the literary laws of perspective, plot, and pacing, and the novel reads like a photo album full of (intentionally blurry) snapshots that converge to create a broader narrative. In the thirty-fourth of her seventy-seven tiny chapters, Gray describes a photographic phenomenon that illustrates the very effect her form creates:
"Photographs of photographs tend to take on a strange quality of their own, independent of the subject they try to capture. The glass of the photo's frame and the glass of the camera lens together offer an extra layer between the item and the capturing device, giving the air between them a darker quality. Of course, any dust on the picture frame or intruding natural light can further degrade the image. The resulting picture represents the murky edges, facial expressions blurred and unclear. The individuals in the frame are difficult to separate from the elements of scenery."
The individual is part of the scenery; the scenery is part of the individual; David's house is also David; "the house [is] a void." And as he boards the windows of his house shut he muses: "It [feels] good to cover the place where people might either observe or enter his home interior."
With Franny dead, David now has to exist in that boarded up interior. He has to know himself – the scariest part of being alone? – and we get to know a picture of a picture of that self. Blurry snapshot: David's mother in a "Home for Women," where it's "warm as an incubator" and where his mother "often dreams of hatching from an egg." Blurry snapshot: David's baby sister drowning in a shallow swimming pool. Blurry snapshot: David French kissing Franny's co-worker at the spa Franny had worked at, during a "freebie" acid enzyme mask, the co-worker in "optimistic deep purple" underwear, after Franny's death. David: a beloved dentist whose practice had gone wrong somewhere; he misses "the smell of sanitized dental tools mixed with coffee." David: no longer not the person he, or anyone, thought he was. David: totally suicidal?
Through all this darkness, there is something intrinsically suburban and light about Threats, which is interesting, firstly, because of Gray's obvious, dark, and seemingly urban intelligence. The fact that David eats at Sizzler, for example, or that Franny gave facials for a living – we may have a hard time imagining Gray herself setting foot in a restaurant with a buffet, let alone understanding the mechanics of pore extraction. It is also interesting because the normal things (cul de sac, sugar cereal, terrycloth robe) are precisely the things the weirdness inhabits – it is the infusing of the "normal" with the weird that makes the book doubly weird.
"That morning," Gray writes of the day Franny died, "she spooned the sugar into her cup of coffee and returned the bag to the pantry. She walked to the table and sat beside him. These things were as ordinary as ordinary. Missing them would feel the same as missing a chair that was not particularly comfortable or uncomfortable. Like missing a dinner plate, a door's frame."
And yet it is the weight given to the ordinary that make reading this book such a benevolently bizarre experience. That cornflakes or "freezer-burned meatloaf" exist in this surreal landscape is jarring and funny; the humor, here, is based on such unromantic juxtapositions, and also on a foundation of sadness (funny plus sad equals funnier and sadder). In New York City, David might be killed in traffic, wandering about in his slippers in the snow. In Threats' special brand of suburbia, he simply decomposes into the house he grew up in.
During the more opaque stretches of Threats we may be forced to wonder if the novel is decomposing alongside David. We might even stop to ask ourselves if Gray can pull off in the novel what she does in her works of shorter pieces (AM/PM, Featherproof Books, and Museum of the Weird, FC2), works where snapshots aren't forced to make sense together. And yet in this sort of novel, the sort where making sense is perhaps the opposite of the point, we must forgo the satisfaction of story. Edgar Allan Poe said "A short story must have a single mood and every sentence must build towards it." Gray has stretched this advice to serve an entire novel; every sentence, every word even, of Threats is pitched directly at a central atmosphere. The atmosphere, at once bleak and tedious and eccentric, is the perfect place to float around and wonder: how could there be another? How could this mood be different? How could plot or purpose or plan exist at all, being that Franny has died?
***
Molly Prentiss' fiction and poems have appeared in Everyday Genius, Mudluscious, >kill author, Fourteen Hills, La Petite Zine, Hobart, Ilk, Switchback, The Heavy Feather Review and others. Her essays and commentary have appeared in We Still Like and YOU: An Anthology of Essays in the Second Person. She was a 2010-2011 Writer-In-Residence at the Lower Manhattan Cultural Council and received an MFA from the California College of the Arts. She lives in Brooklyn, New York, as well as on the internet at mollyprentiss.blogspot.com.
Tags: amelia gray, Molly Prentiss, threats