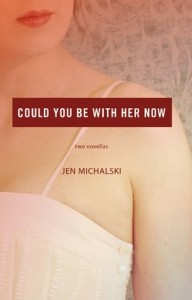 Could You Be With Her Now
by Jen Michalski
Dzanc Books, 2013
180 pages / $15.95  Buy from Amazon or Dzanc Books
Stephen King called novellas an "ill-defined and disreputable literary banana republic." In Jen Michalski's Could You Be With Her Now, she gives us two very different samples of the republic. "May-September" is about a May-December romance and is lyrically written with a fascinating sensuality exploring relationships through the rhythms of music and stories. "I Can Make It To California Before It's Time For Dinner" is about a mentally challenged fourteen-year-old who undertakes a haunting journey and is also a social commentary on the nature of entertainment when it intersects with reality. Together, they comprise a powerful one-two punch on the ecology of longing and desire, though it was the odyssey in "I Can Make It To California Before It's Time For Dinner" that compelled me to write this review and what I'll be focusing on.
In the novella, Jimmy, the mentally challenged boy who serves as narrator, can't differentiate reality from TV. That's why he thinks the actress on the screen, Megan, is his girlfriend. When his brother, Josh, challenges him to find her, he mistakes a local girl for the actress and accosts her. Throughout, the writing is deceptively simple, mimicking the tones of a young boy while blurring the boundaries between reality and illusion as we're sucked into Jimmy's world. "I pretend I'm a dinosaur eating people," he says, and there's a charm in the way he interprets experiences that are confusing to him through the prism of television and family anecdotes. The voice Michalski creates is funny and yet consistently unique in the way his view of the world is so fragmented. In some ways, when I initially read the description about the novella, I thought of Lenny from John Steinbeck's Of Mice and Men. They are both beautifully written to fit the narrative and weave a haunting track of prose. But the parallels end quickly when Jimmy gets into a scuffle with the girl, and in a moment of panic, kills her, thinking merely that she's gone to sleep. Again, the diction shows us that Jimmy is unaware of the gravity of what he's done and he gets lost after his brother sends him away to hide from the police.
Jimmy wanders into a group of truckers at a gas station where he meets Ed. His only point of reference for strangers are cartoons. Ed is "short and fat like a Weeble and has a moustache like Yosemite Sam, but he is not a cartoon he is a real man." In this case, entertainment gives him a false sense of comfort and when Ed offers to take him home out of concern, Jimmy goes along. But it becomes clear that taking him home is the furthest thing from Ed's mind. The interactions between Ed and Jimmy start off innocently enough, but get brutally graphic and disturbing. Ed is a sexual predator, intending to exploit Jimmy. Jimmy, oblivious to the danger he's in, explains his experiences with an innocence that makes every sentence difficult to read for everything that we have to read between the lines. Michalski constructs two layers of understanding to contrast Jimmy's inability to understand what's really going and the reality that the reader is forced to fill in between the gaps, resulting in an even more disturbing experience: "My legs are tired and they want to sleep and so do I. I am mad at Josh but when I get home I won't hate him because he is my brother. God hears everything I say so I love Josh, love Josh, love Josh. Also, God, please I am lost and I need a telephone and a puppy for Christmas."
It's a testament to Michalski's story-telling that she doesn't flinch from the story or dumb it down in any way. The writing is bold in the way it maintains a consistent voice that never feels overwrought. The ensuing encounter left me feeling both shocked and sick. "I get in the back of the truck and sit on the bed. Mr. Ed is a bad guy but he does not look like one. How can you tell that a bad guy is bad if he looks good?"
Even when Jimmy is rescued, there is no real redemption. The girl is still dead, even though he can't grasp that concept while waiting with the police:
"I'm tired of being here."
"Jimmy, that girl is dead and everybody thinks you did it." Josh knocks the ball out of my hands and goes toward the basket. I run after him, swatting at his arms.
"But Megan is not dead. She is on the TV," I say.
"I Can Make It To California Before It's Time For Dinner" is easily the most riveting and thought-provoking novella I've read this year. Mental illness is a big issue in our nation and the novella highlights that fact in a way no other medium could possibly replicate. We, as readers, know an ill-fate awaits Josh for murdering the girl. But there's an inescapable sense that there should have been more maintenance and support from those around him so that the situation never would have reached that point.
At the same time, the story, on a more symbolic level, cautions against the inability for people to distinguish entertainment from real life— the mental illness induced by celebrity worship and reality shows that make a mockery out of every day existence by caricaturizing it. The ramifications have an impact in people's lives and point to a more ominous condition, as when Josh kills Megan: "I put my hands on her neck and twist real hard, back and forth. She puts her hand on my hands, but I am bigger. Her face turns all red and it's kind of funny how red. She keeps moving and kicking and I try to stop her. We are up half the way when falls asleep on me. She is so heavy I let her fall and then I wait for her to stop make-believing because people on TV are always doing make-believe. The way Josh fake sleeps until I go away." Only, it's not fake sleep and unfortunately, Josh isn't going to make it to California before dinner no matter how much we wish he did.
***
Peter Tieryas Liu has work forthcoming or published in Gargoyle, the Indiana Review, Menacing Hedge, New Letters, and the New Orleans Review. His novel about Asian Noir and serial killers, The Wingless, is coming out from Signal 8 Press in 2014. You can follow his work at tieryas.wordpress.com and on twitter @TieryasXu.
Tags: Could You Be With Her Now, jen michalski, Peter Tieryas Liu