jen michalski

Today is the last stop of Jen Michalski's virtual book tour celebrating her new collection, From Here. The twelve stories in From Here explore the dislocations and intersections of people searching, running away, staying put. Their physical and emotional landscapes run the gamut, but in the end, they're all searching for a place to call home.
***
Never Forever: Where Does the Story End?
"There is no real ending. It's just the place where you stop the story."
I don't like to talk about endings. I don't like saying goodbye to my partner when she leaves for work in the morning, nor do I gracefully accept when visitors, who only live ten minutes away, must go home. I don't like finality in general, particularly in my fiction. The best endings, in my opinion, hint at beginnings, offer several paths on which to move forward, let the readers take a short story (or even a novel) beyond the parameters in which the author has set. Like life, fiction should not be a cross section on a slide, to be viewed in isolation under a microscope. It should be a dialogue and a starting point.
In college I was introduced to Raymond Carver, not in a class, but by a roommate who loved the short story "Fat." When I first read it, I was confused; a waitress recounts to her fellow co-workers her revulsion and confusion over a recent, extremely obese diner, a man who eats more than she has ever witnessed anyone eat and refers to himself as "we." The story mysteriously ends with the waitress, speaking to the reader: "It is August. My life is going to change. I can feel it." Would her life change as the result of the encounter with the fat man? Did her perspective of the world grow, and she awaited the fruits of these insights? Was the encounter with fat man completely unrelated to her mysterious epiphany?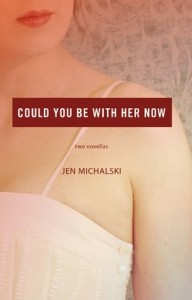 Could You Be With Her Now
by Jen Michalski
Dzanc Books, 2013
180 pages / $15.95  Buy from Amazon or Dzanc Books
Stephen King called novellas an "ill-defined and disreputable literary banana republic." In Jen Michalski's Could You Be With Her Now, she gives us two very different samples of the republic. "May-September" is about a May-December romance and is lyrically written with a fascinating sensuality exploring relationships through the rhythms of music and stories. "I Can Make It To California Before It's Time For Dinner" is about a mentally challenged fourteen-year-old who undertakes a haunting journey and is also a social commentary on the nature of entertainment when it intersects with reality. Together, they comprise a powerful one-two punch on the ecology of longing and desire, though it was the odyssey in "I Can Make It To California Before It's Time For Dinner" that compelled me to write this review and what I'll be focusing on.
In the novella, Jimmy, the mentally challenged boy who serves as narrator, can't differentiate reality from TV. That's why he thinks the actress on the screen, Megan, is his girlfriend. When his brother, Josh, challenges him to find her, he mistakes a local girl for the actress and accosts her. Throughout, the writing is deceptively simple, mimicking the tones of a young boy while blurring the boundaries between reality and illusion as we're sucked into Jimmy's world. "I pretend I'm a dinosaur eating people," he says, and there's a charm in the way he interprets experiences that are confusing to him through the prism of television and family anecdotes. The voice Michalski creates is funny and yet consistently unique in the way his view of the world is so fragmented. In some ways, when I initially read the description about the novella, I thought of Lenny from John Steinbeck's Of Mice and Men. They are both beautifully written to fit the narrative and weave a haunting track of prose. But the parallels end quickly when Jimmy gets into a scuffle with the girl, and in a moment of panic, kills her, thinking merely that she's gone to sleep. Again, the diction shows us that Jimmy is unaware of the gravity of what he's done and he gets lost after his brother sends him away to hide from the police.
Jimmy wanders into a group of truckers at a gas station where he meets Ed. His only point of reference for strangers are cartoons. Ed is "short and fat like a Weeble and has a moustache like Yosemite Sam, but he is not a cartoon he is a real man." In this case, entertainment gives him a false sense of comfort and when Ed offers to take him home out of concern, Jimmy goes along. But it becomes clear that taking him home is the furthest thing from Ed's mind. The interactions between Ed and Jimmy start off innocently enough, but get brutally graphic and disturbing. Ed is a sexual predator, intending to exploit Jimmy. Jimmy, oblivious to the danger he's in, explains his experiences with an innocence that makes every sentence difficult to read for everything that we have to read between the lines. Michalski constructs two layers of understanding to contrast Jimmy's inability to understand what's really going and the reality that the reader is forced to fill in between the gaps, resulting in an even more disturbing experience: "My legs are tired and they want to sleep and so do I. I am mad at Josh but when I get home I won't hate him because he is my brother. God hears everything I say so I love Josh, love Josh, love Josh. Also, God, please I am lost and I need a telephone and a puppy for Christmas."