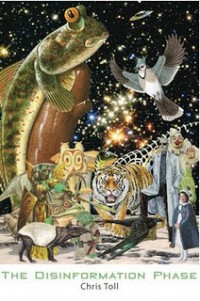 The Disinformation Phase
by Chris Toll
Publishing Genius Press, 2011
68 pages / $12.00 Buy from Publishing Genius Press
Rating: 8.0
I bought The Disinformation Phase basically because I liked the cover. Then I found out that was actually a good piece of criteria to go on: its author, Chris Toll had made it.  It's a collage of unlikely portrait-sitters, kind of like his poems, which paradoxically at once seem made at home and extraterrestrial, like alien-worshipping cult flyers; you wonder if someone really believes all this.

Get right down to it and the only thing nerdier than science fiction is poetry.  Change sci-fi's uber-marketing for poetry's lack thereof and one could easily mistake the Comic Con for say the Poetry Project.   Despite the gleam of novelty, sci-fi and poesie have been buddies for some time, since say Victor Hugo.  When Whitman writes that he "sings the body electric" it's almost goofy, like a horror movie, like new age, and in that sense, like metaphysics.   How different is poet Jack Spicer´s inspirational ¨ghost¨ from George Lucas´ ¨force¨?  For that matter, Spicer and Herbert Duncan's friendship with sci-fi novelist Philip K. Dick seems more than just a matter of circumstance (living in the Bay Area). The Disinformation Phase – strange, funny, oddly affective – feels like something that could have been written by their six hands, in the suburban basement of a temple dedicated to Jesus, Yoda, and Anne Bradstreet.
I should say that part of my passion for this book comes from some coincidental connections it's made with other things I´ve been reading in the last few months. I thinking finding correlations between books is a real and rewarding aspect of reading.  If – as Wittgenstein said – there is no private language, then there is no private book either.  So, anyway, I found Chris Toll´s use of words inside of other words, or [insert strange Greek term for literary device here] in one of the Great Bear Pamphlets called the last french fried potato and other poems by Emmett Williams.
Toll's go:
Why is fusion in confusion?
Why isn't dance in coincidence?
Why is tic in didactic?
Why is Go in God?
Why is us in Jesus?
Why is Try in Poetry?
Williams´ [strange greek name for literary device, plural] sound more like:
scent of my ascent
x-factor of my ex-factor
nip of my snip
well of my swell
x of my ax.
(I should say that Williams´ poem is meant to be a duet.)
I think there´s something almost naturally playful in this kind of wordplay, but in Toll it's weird, and prophetic, and sincere, like Cassandra and the encyclopedia had a baby. For example in "Strange World (Too Sad)" there's a line that pops up in my head every now and then: "discover an inn in infinite."
Now Emett Williams doesn´t actually appear in The Disinformation Phase, but poets like Emily Dickinson, John Keats, Sylvia Plath, and Arthur Rimbaud do.  Dickinson and Rimbaud are Farsi scholars.  Emily Dickinson discovers that Edgar Allen Poe made a time machine.  Each section includes some "lost" poem of theirs, often with allusions to pop culture in what would be the future.
These faux apocryphal poems reminded me a little of Jack Spicer´s translations of Lorca that weren´t really Lorca: a communion with like spirits, a historiography of influence, a spotty rewriting of the generally authoritarian antiquarian, literary history.  Toll and his book should go in the X-file of alienating sci-fi lit, in the future of course.
Tags: Chris Toll, Publishing Genius Press, The Disinformation Phase