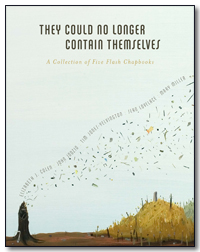 They Could No Longer Contain Themselves:
A Collection of Five Flash Chapbooks
by Elizabeth J. Colen, John Jodzio,
Tim Jones-Yelvington, Sean Lovelace, and Mary Miller
Rose Metal Press, 2011
248 pages / $15.95 Buy from Rose Metal Press
Rating: 7.0
The problem with collections of flash fiction is their unevenness, or that the reader recognizes the unevenness more than in, say, a novel. Maybe this also applies to story collections, especially non-linked stories, though there are a few that come away feeling complete–to me, usually collections with fewer stories. I can't think of a single flash collection that does not seem hill-and-valley. They Could No Longer Contain Themselves is no exception. I find it interesting to note, however, that the chapbooks that were linked helped me see past the valleys, as I was always aware of the range. Okay, enough of this terrible analogy. On to the individual chapbooks.
Just one reader's note: Going into TCNLCT, I had read Sean Lovelace's How Some People Like Their Eggs, which won Rose Metal Press's chapbook competition and which I figured would be the standout. As I was reading, I changed my mind away and then back again.
TCNLCT begins with John Jodzio's Do Not Touch Me Not Now Not Ever. This first chapbook seemed the least strong to me. I have been and am a fan of Jodzio's work, but when read together, the stories in DNTMNNNE seemed to rely too much on premise. If the premise succeeded, the story succeeded, but if not, not. I would fully expect a reader who came across the stories individually to walk away impressed, but the effect together was to make the writer seem in a rut.
The second chapbook is Mary Miller's Paper and Tassels. Miller is a favorite, but these shorts didn't have the ballast of some of her other stories, for me. A few still transcend and are some of the best in the book, but others fail to hit that emotional register that is at the core of a Mary Miller success. Miller's stories, to me, seem to burn and burn until you realize you're on fire, but here, some of these stories seem in embers.
Elizabeth Colen's careful prose and intricate interweavings in Dear Mother Monster, Dear Daughter Mistake made the stories that nearly made me forget the rest of the book. A pleasant surprise–of the five authors, I was least familiar with Colen's fiction. Yet that first story is a killer, and the interplay thereafter carries the reader through the weaker stories. There is poetry in this chapbook. A lot of it.
In contrast, Tim Jones-Yelvington's Evan's House and the Other Boys Who Live There contains the least poetry. At first, I thought this lack would lose me, but as the stories keep building, it's hard not to see the charm in their architecture. I fell for the brick-like work they did in creating a whole. Some stories are far more like tiny chapters than like stand-alone stories, perhaps weaker alone, but stronger for the overall arc. My only complaint is with those stories that do not do that brick work as well, and with the bylines, which were an unneeded gimmick and seemed forced upon the structure authorially. But as a whole, quite strong.
Lastly, Lovelace's How Some People Like Their Eggs, except for that Charlie Brown miss at the beginning, is so true and diamond-cut that it made me fall for it all over again. How could I forget that voice! These are five original voices–that's the main thing TCNLCT has going for it–but Lovelace, maybe with the exception of Miller, has the most authority behind his style. These stories really sing, and in an associative way. They linger past their reading. You're never done with them, and they're never done with you.
Tags: Elizabeth J. Colen, john jodzio, mary miller, rose metal press, Sean Lovelace, They Could No Longer Contain Themselves, Tim Jones-Yelvington