HTMLGIANT / mary miller
Mike Young
Hey, have y'all seen and heard this Story Tapes project that Eliza Smith and Faith Gardner have put together? They have a sweet logo, and they post interviews/audio/video of writers reading their own stories, or swapping and reading another writer's stories, and it's all really nicely produced and soundtracked.
Stories by people like Scott McClanahan, xTx, Delaney Nolan, Dylan Nice, Alissa Nutting, Mary Miller, Sarah Rose Etter, Amber Sparks, Matt Rowan, Lauren Becker, Casey Hannan, Tania Hershman, and some cool new-to-me people like Alicia Mountain, Sean Schlemmer, Josh Denslow, Owen Poindexter, Molly Laich, Megan Kruse, Berit Ellingsen, and more.
More people should do stuff like this. Is this a thing? Are lots of people doing well-designed and steady video/audio reading series things like Story Tapes? Can you post some links in the comments?
Technology
&
Web Hype
/
10 Comments
April 24th, 2013 / 12:52 pm
Gene Morgan
Chloe Caldwell, Elizabeth Ellen, Mary Miller, Brandi Wells and Donora Hillard are getting in a rental van and sailing the South.
I'm really excited about this. The Southern part of the US needs as much love as we can get. It's hot down here, and we've got mosquitos and no gay marriage.
If you live in one of these cities (Austin, Houston, New Orleans, Oxford, Tuscaloosa or Atlanta), or if you are feeling generous, you can donate money on the tour's Kickstarter page here.
If you catch me in Houston, I'll buy you a beer and we can talk for a long time about racism/sexism/Tao Lin.
Here are the tour dates:
July 11th – Austin, TX – Domy Books, 7pm
July 12th – Houston, TX – Domy Books, 7pm
July 13th – New Orleans, LA
July 14th – Oxford, MS – Square Books, 6pm
July 16th – Tuscaloosa, AL
July 17th – Atlanta, GA – Beep Beep, 8pm
Events
/
16 Comments
May 10th, 2012 / 11:59 am
Anonymous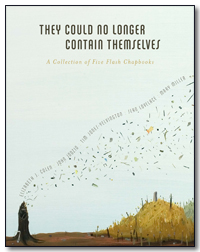 They Could No Longer Contain Themselves:
A Collection of Five Flash Chapbooks
by Elizabeth J. Colen, John Jodzio,
Tim Jones-Yelvington, Sean Lovelace, and Mary Miller
Rose Metal Press, 2011
248 pages / $15.95 Buy from Rose Metal Press
Rating: 7.0
The problem with collections of flash fiction is their unevenness, or that the reader recognizes the unevenness more than in, say, a novel. Maybe this also applies to story collections, especially non-linked stories, though there are a few that come away feeling complete–to me, usually collections with fewer stories. I can't think of a single flash collection that does not seem hill-and-valley. They Could No Longer Contain Themselves is no exception. I find it interesting to note, however, that the chapbooks that were linked helped me see past the valleys, as I was always aware of the range. Okay, enough of this terrible analogy. On to the individual chapbooks. READ MORE >
Reviews
/
59 Comments
August 2nd, 2011 / 12:02 pm
Sean Lovelace
11.
well I sincerely cannot think of a way that the holidays, as we know them, have anything to do with art.  except for the ways we are tested.
Lucy Corin
78. Soth takes photos worth eye-meat.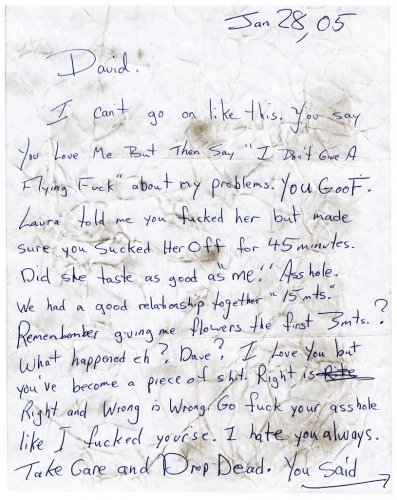 14. Christmas Eve flash (scroll down–it involves a ham) by Pamela Painter.
22. Hey, pick me up that Thomas Pynchon first edition for $51,000.
00. What are the best books that fit in a stocking? I'm going Big World, but you?
Author Spotlight
&
Random
&
Roundup
/
10 Comments
December 23rd, 2010 / 9:36 am
Kyle Minor
[series note: This post is the first of five, in a week-long series examining first sentences or paragraphs. It's not my intention to be prescriptive about what kinds of first sentences writers ought to be writing. Instead, I hope to simply take a look at five sets of first sentences for the purpose of thinking about how they introduce the reader to the story or novel to which they belong. I plan to post them without commentary, as one might post a photograph or painting, and open up the comment threads to your observations as readers. Some questions that interest me and might interest you include: 1. How is the first sentence (or paragraph — I'll include some of those, too, since some first sentences require the next few sentences to even be available for this kind of analysis) interesting or not interesting on grounds of language? 2. Does the first sentence introduce any particular (or general feeling of) trouble or conflict or dissonance or tension into the story that makes the reader want to keep reading? 3. Does the first sentence do anything to immerse the reader in the donnee, the ground rules, the world of the story, those orienting questions such as who speaks, when and where are we in space and time, etc.? 4. Since the first sentence, in the wild, doesn't exist in the contextless manner in which I've presented these, in what kinds of ways does examining them like this create false ideas about the uses and functions of first sentences? What kinds of things ought first sentences be doing? What kinds of things do first sentences not do often enough? (It seems likely to me that you will have competing ideas about first sentences. Please offer them here. Every idea or observation gets our good attention.) The sentence/paragraph sets we'll be observing: 1. first sentences from Mary Miller's Big World; 2. first sentences from physically large novels; 3. the first sentences from every book written by Philip Roth; 4. first sentences from the Norton Anthology of Short Fiction; 5. first sentences from Best European Fiction 2010.]
There's a leak, I told him, it's right over my bed. He didn't believe me. I was a girl.
– "Leak"
My sister is inside watching a movie and bleeding. I don't bleed anymore. It's not something I thought I'd miss.
– "Even the Interstate is Pretty"
He had an air gun, a beer box set up to shoot. We were in a hotel room in Pigeon Forge. READ MORE >
Random
/
33 Comments
December 12th, 2010 / 9:43 pm
Jimmy Chen
[Guest post from contest winner David Swider of Kitty Snacks.]

Kitty Snacks contributors Mary Miller and John Brandon sat down (at their computers) and emailed each other back and forth for about a week discussing different topics from writing to hanging out in their respective towns in Mississippi. John Brandon, the author of Arkansas (McSweeney's), lives in Oxford, Mississippi (the home of Kitty Snacks magazine) where he is the John Grisham writer in residence, which means he gets a sweet house to live in, a few classes at the University of Mississippi to teach, and time to write. He has a new book coming out on McSweeney's this summer. Mary Miller is the author of Big World (Hobart) and lives in Hattiesburg, Mississippi where she studies under Frederick Barthelme at the University of Southern Mississippi. Both writers were featured in Kitty Snacks #2 and they both have stories forthcoming in Kitty Snacks #3, which is out in a few weeks. — DS
Mary Miller asks John Brandon 7 questions
1. I was particularly interested in your story "Naples. Not Italy." (which was published in Subtropics) because it's excellent, but also because I'm currently writing a story in first person plural.  I thought this POV was obscure but it seems like I'm finding it all over the place lately, particularly in flashes by contemporary writers.  Do you write in this point of view often?  What do you think you're able to achieve using this perspective as opposed to first person singular, or third person?
I went on a first person plural kick.  I wrote three stories in it, if that's a kick.  I think there's something mysterious about that POV because the reader can't pinpoint the origin of the information they're receiving.  And there's an authority to it.  Somebody may argue with you, but will they argue with you and a bunch of your friends?  I read a Tom McGuane story where he uses first person plural to characterize a town's sensibilities.  I think that's when I became interested in it.  Yeah, mystery and authority.
Author Spotlight
/
23 Comments
February 1st, 2010 / 1:36 pm
pr
As a subscriber to Hobart, I recieved a litte gift package, which included matches (thanks, I have yet to open up that box of nicotine patches I bought in September), a cute little coaster, and  a "special sneak-peek chap for subscribers" of Big World by Mary Miller. Big World will be out this year by Hobart's Book Division, Short Flight/Long Drive Books. The mini-chapbook has two stories in it: "Fast Trains" and "Even The Interstate Is Pretty". The stories are very good. Very, very good. They also happen to be very much to my taste, as well as what I often try to do as a writer.  After reading them, I went online and read most everything I could find of hers there. I loved her flash works on Storyglossia, which you can read here, or here.
Author News
&
Presses
/
34 Comments
January 14th, 2009 / 4:29 pm
Blake Butler
Two really exciting new handmade chapbooks (I will not call them 'chaps') from the exciting, pastel colored Magic Helicopter Press: Mary Miller's LESS SHINY and Benjamin Buchholz's THIRTEEN STARES.
Here are specs:

Mary Miller's LESS SHINY

5×7.5
Saddlestitched
36 pg
First Printing: November 2008, 75 numbered copies

• DESCRIPTION •

A collection of short short stories from the author of Big World (short flight/long drive books 2009). Mary Miller's stories have appeared in the Oxford American, New Stories from the South 2008, Mississippi Review, Black Clock, Quick Fiction, Barrelhouse, Hobart, and elsewhere.

• EXCERPTS •

from NOÖ Journal: "This Boy I Loved a Rock"

from elimae: "South Dakota"

from SmokeLong Quarterly: "A Blind Dog Named Killer and a Colony of Bees"

Benjamin Buchholz's THIRTEEN STARES.

5×7.5
Saddlestitched
36 pg
First Printing: November 2008, 75 numbered copies

• DESCRIPTION •

A collection of poems and photographs from US Army officer Benjamin Buchholz, who is the author of the non-fiction book Private Soldiers from WHS Press, now nominated for the Book of the Year Award by ForeWord Magazine. Work Buchholz published in 2007 has been nominated for the Pushcart, the Million Writers Award, and included in the anthology Best of the Web from Dzanc Press.

• EXCERPTS •

from NOÖ Journal

from Tryst: "Promotions and Demotions"

from Tarpaulin Sky: "Nowords"
Two killer new things to read and gift and give and enjoy. Cheap! Kick it.
Presses
/
4 Comments
November 30th, 2008 / 2:31 pm
Ryan Call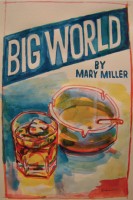 You probably already got this info in your email. Hobart just posted new content at their website: stories by Ravi Mangla, Lindsay Hunter, V. Ulea, and Sara O'Leary. Also, there is an interview up: our own Matthew Simmons asked questions of Michael Kimball. This new issue is the first curated by new web editor Stephany Aulenback. Hooray!
Also, the people at Hobart's minibooks division have officially announced their next release: Mary Miller's Big World. Congratulations to everyone on another successful thing.
They'll have more details soon about ordering info.
Author News
&
Web Hype
/
4 Comments
November 3rd, 2008 / 9:33 pm