Anna Summers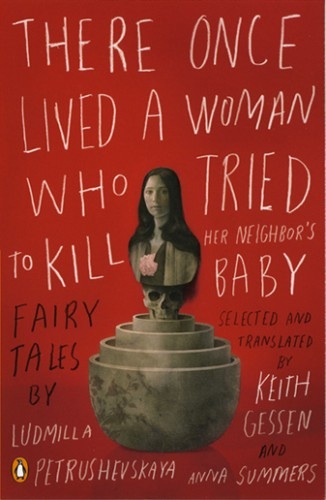 There Once Lived a Woman Who Tried to Kill Her Neighbor's Baby by Ludmilla Petrushevskaya, translated from the Russian by Keith Gessen and Anna Summers. pp. 206, $15 list ($10.50 at the above-linked Powells page)
.
YOU THINK YOU HAVE IT HARD
by Eva Talmadge
.
Sometimes I steal books from Justin. It happens. Last week I swiped a good one: Ludmilla Petrushevskaya's There Once Lived a Woman Who Tried to Kill Her Neighbor's Baby, selected and translated by Keith Gessen and Anna Summers. If Justin ever catches on and tries to steal his book back, I'll go out and buy it, and then read it all again—because this funny, strange, and gruesome short collection is well worth paying full retail ($15) for.
But I don't want to write one of those reviews that reads like a press release or a protracted blurb. Petrushevskaya is a master storyteller, and like all good fairy tales, hers end in tears. You already know that. Just look at the cover. And it's easy to say Petrushevskaya is the "heir to the spellbinding tradition of Gogol and Poe"—it says so right there on the back of the book. So okay. Any decent batch of gothic and supernatural short stories is going to get a Poe comp, and Americans will give just about any fiction translated from Russian a Gogol mention. Those are two writers whose names sell books, and pretty much no-brainers here, but (here's where it gets blurby) damned if Petrushevskaya doesn't live up to those comparisons and then some, matching both in inventiveness and in gore—and perhaps beating them in heart.