Barrelhouse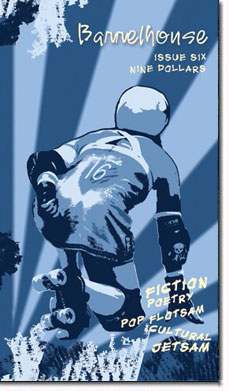 Each issue of Barrelhouse keeps outdoing itself one after the other: and to mark the occasion the dudes that run the joint decided to bring a corresponding new head on their web head.
The new site contains a nice clean new structure featuring their latest online texts by Emma Straub, Tod Golberg, and etc, as well as their regularly updated blog, which is always a good read, and does more to dig up weird pop culture sluff and make fun of it in a mind such as The Soup.
Check it out, and while you're at it, check out their new issue, Barrelhouse 6, which has work by Mary Miller, Denise Duhamel, Jay Wexler, and etc.
Uncategorized /
Comments Off

on Barrelhouse gets nip/tuck'd
October 21st, 2008 / 3:16 pm
Barrelhouse is a thing we like and their blog has reviewed new chapbooks by people we like so you should read the review and like the books and the people too. 
A Tale of Two Chaps discusses They All Seemed Asleep, by Matthew Rohrer from Octopus Books, and Hit Wave by Jon Leon from Kitchen Press. 
Here are two unhelpful excerpts from the review: 
On Rohrer- >>You've never heard of anything like that, right? <<
On Leon- >>I should say that the chapbook begins with two quick odes…<<
Uncategorized /
Comments Off

on LIKE FEST
October 4th, 2008 / 12:20 pm