boss fight books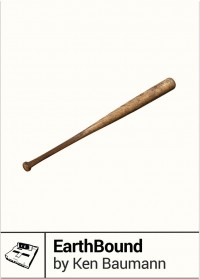 Earthbound
by Ken Baumann, Foreword by Marcus Lindblom
Boss Fight Books, 2014
191 pages / $14.95 Buy from Boss Fight Books
1. This past December found me at several Christmas parties and office get-togethers (mostly with my wife's coworkers and friends). Because I'm kind of self-absorbed and, even if I wasn't, I've been spending the past five months with my newborn son, I don't have much to contribute by way of conversation, so I turned to talking about Earthbound.
2. My parents never bought me a Super Nintendo or any of the other 90's child indulgences (although I was a member of the Burger King Kid's Club  and was allowed to watch hour upon hour of Nickelodeon), so I had no point of reference for the cult-hit video game.
3. I had trouble finding anyone who knew what I was talking about. They had never heard of the game, and cared even less about Ken Baumann's book.
4. The few times that I actually found someone who played Earthbound our conversations were hauntingly simple.
5. Me: Have you ever played Earthbound?
Partygoer: You need to go home tonight and play it right now. [End of conversation.]
6. I never got around to it. Blah-blah work. Blah-blah new parent. Blah-blah smartphone.
7. But the real reason why I didn't play it was because of how purely pleasurable Baumann's book is.
8. Ken Baumann's Earthbound is a charming intermingling of videogame history, walkthrough, memoir, and philosophy. He serves as Virgil to the reader's Dante as he guides us through the "total inverse of Dante's Hell" that is Twoson, Threed, Summers, and the other locales of the game while drawing on everything from Straw Dogs and Jung to Gak's role in 90's gross-out culture and House.
9. Baumann depicts the "irretrievable beauty in video games…" as a Romantic would depict vernal wood. As sacred: "Ephemeral glitches that point to the sublime. Randomized variables that are made more poetic in their expression by their adjacency to the rote and the banal."
10. The strongest of Baumann's threads are the biographical ones. Earthbound [the book] is a study of how Earthbound [the game] impacts lives, especially the lives of little Kenny in Texas, his estranged brother Scott, and the support of Ms. Baumann, and the loving Aviva. READ MORE >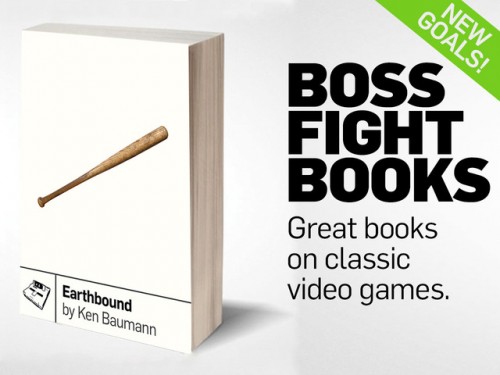 Gabe Durham is starting up an incredibly cool new press called Boss Fight Books that will revolve around creating great books about classic video games. The launch titles will be Earthbound, Galaga, Super Mario Bros. 2, ZZT, and Jagged Alliance 2 with a great lineup of authors from a variety of backgrounds. These include Ken Baumann,  Michael Kimball, Anna Anthropy, Jon Irwin, and Darius Kazemi. I recorded a two minute video short with short clips for each of the games to commemorate and celebrate the news, as well as a reminder of how cool each of the titles were. I got goosebumps just recording/playing Earthbound again! As their Kickstarter surpassed initial expectations, it's happening for sure, though you can still get in on the action and help them reach their stretch goals by clicking the link below. The first of the books is coming out near the end of the year and there's a lot more of the details on the link. The book covers look beautiful and you can check out what the press will be about directly from Gabe Durham and Ken Baumann on the Kickstarter page. And of course, make sure to check out the books when they release, as well as the games themselves!
More info on the Kickstarter Page.
Some info directly from the site:
The Series:
Each of the books will take a critical, creative, historical, and personal look at a single classic video game.Some books will be about the history of the game's creation, some will focus on particular elements like level design, story, and music, some will investigate the subculture that has formed around a game, some will bring in outside art, science, and media, some will have a strong autobiographical element. Many books will be a combination of all these things.
The Format:
All the books will be available in paperback and ebook (all formats), and sold both directly from our site and from other major online bookstores. Each book will be numbered, collectible, and will look great on your shelf together.