Camera Obscura
I've always been curious about the darkroom where literary magazines come together. This is a series of interviews engaging, talking, and sometimes annoying editors about their magazines. How did they come about, what do they hate about editing, and what do they love most about it? This is the second in the series and I talked with M.E. Parker of the Camera Obscura Journal of Literature & Photography. It's by far one of the most beautiful literary magazines around with riveting photography that goes hand-in-hand with some amazing voices. Seriously, the covers kick ass and the stories rip you open from inside and your guts are hanging out and you smile, "Cheese,"  for the camera because you want to capture that brief moment where inspiration bisects into awe and mesmerized nausea from having been split open. A brief description on their site states they are: "an independent literary journal and internet haunt featuring contemporary literary fiction & photography. Contributors include established, as well as, emerging writers and photographers."
As a brief bio and introduction to M.E. Parker:
M.E. Parker is a writer, an editor, web designer, and a carpenter who imagines a world of wooden computers with leather bound keyboards. His short fiction has come up for air in numerous print publications and Internet haunts. He is the founding Editor of Camera Obscura Journal of Literature & Photography.  www.meparker.com
***
PTL:  When and how did you first come up with the idea of starting the Camera Obscura Journal of Literature and Photography?
M.E. Parker: As is often the case with grand notions conceived in the mental stupor of Belgian Monk brewed beer, I first envisioned a glorious, indescribable tome, pared the following day by the limits of funds, time, and logistics with a few basic principles to guide it.  Mostly I wanted a writer and artist friendly venue where, not only contributors, but submitters as well, really do come first, and the stress of the submission process gives way to levity. And in the process my hope was that we create a great community and journal and have fun on the journey (we are still the only journal with a big red "Bug the Editor" button on the withdraw/submit page).
As the editor, I assembled a team not unlike selecting a crew for a heist:
Me – Captain and story wrangler.
Shane Oshetski – can deconstruct, analyze and ostracize any short story.
Tim Horvath – erudite lover of language and Borges, who might wear tweed as an old man.
Meredith Doench – appreciates variety, enjoys the flaws, offsets Shane.
Kate – my wife and incredible photographer, master negotiator, foiler of plots.
PTL: The photography in the magazine is just incredible. What goes into the selection/curating process for the photographs? Are most/all of them chosen from the Competition?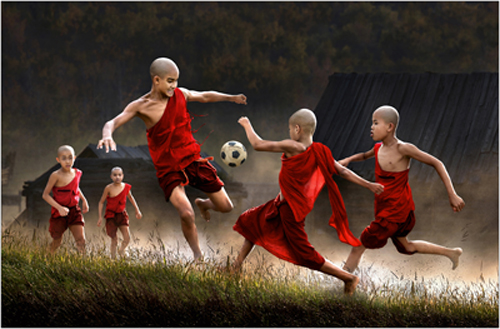 M.E. Parker: The photography does come from the competition for a variety of reasons. Rather than selecting artwork to showcase on the basis of appeal or to augment the writing as an accessory, I wanted a journal where the photography underwent the same editorial scrutiny and selection criteria as the writing without regard for prevailing aesthetic.