does not love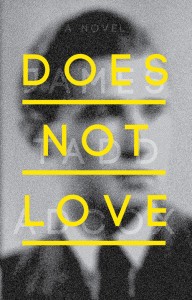 Does Not Love
by James Tadd Adcox
Curbside Splendor Press, 2014
275 Pages / $14.95 Buy from Curbside Splendor
I recently married someone. We drove to Vegas to get married. This is to say, we drove together through the desert.
We drove together through the desert to a city filled with neon signs, designed to distract from the fact that on all sides, the city's surrounded by emptiness.
We drove together through the desert, and we got into an argument. I don't remember what started it, but I remember driving down the strip at 1am, me squinting and crying, him slamming his fist on the wheel.
I looked at him and thought, how did this even start? He looked at me and said something that made the fight feel finished.
I felt an overwhelming warmth. I thought, this is the man that I love and the man I am going to marry. We're staying together through strangeness, and that is what matters.
I also felt an overwhelming corresponding chill. I thought, he could have left me. I too could have left, in a burst of adrenaline.
We could have left each other standing in each other's emptiness. Instead, we stayed together in the desert.
Every marriage is built of moments where two people stayed, but could have left. And all the moments in between. And all the emptiness between them.
*
James Tadd Adcox's novel Does Not Love is a beautiful compendium of these moments within the fictional marriage of Robert and Viola. It is a study of ways that the couple makes meaning—and, trying and failing—attempts to make something. Appropriately, Adcox sets the novel within an alternate reality Indianapolis—a city which, to me, has always felt like something akin to a giant parking lot. Robert and Viola live in a blank space where people put new things. I feel that Does Not Love is about their unease with this space, and what they do to live with that unease.
READ MORE >