Tuesday, February 25th, 2014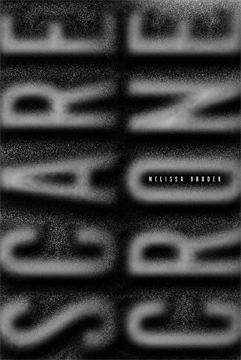 Every time a new book comes out from Publishing Genius, the author is interviewed by the author of the previous PGP book. I'm pleased to present a bunch of questions that Edward Mullany (author of Figures for an Apocalypse) posed to Melissa Broder (author of SCARECRONE). —Adam Robinson
EDWARD: Can you talk about the figure of the "Scarecrone" as she relates to your book as a whole? What is her significance? 
MELISSA: The Scarecrone personifies my fears around time, death, and the loss of physical beauty / sexual desirability. She is a dry succubus, a cautionary tale of the inevitable and the perceived inevitable. She is a mirage. But she is a powerful mirage. She is dangerous in her unreality. She may have something wise to teach. On a social level, one might say she is the ghosts of discarded women in a culture obsessed with youth, though this book doesn't really fuck with culture, because I don't really fuck with culture. I fuck with me, mostly, and my own obsession with youth. I fuck with time. I fuck with fucking. Also death.
To your mind, is the difference between "the inevitable and the perceived inevitable" a significant one? What is that difference?
I made the distinction here, because death is (historically) inevitable, whereas time's slow, cruel drain on my worth as a human being is a perceived inevitability. Where did I get this fear that to grow old is to become worthless? Did I get it from culture? From my mother? From nature? It isn't a truth in the way that death is a truth. And intellectually, I know it's not a truth at all. But to me, on a visceral level, it's a very real fear. And it dictates a lot of my actions. And I can probably make it true if I believe it enough, or at least I can will my own misery. So I guess I'd say that the inevitable and the perceived inevitable are different, but that one's reality and one's perceived reality are the same.
You mention that the Scarecrone can be understood as a sort of succubus. Does this suggest that your poems are concerned as much with the supernatural, or spiritual, as they are with the physical? Or does it suggest something else?  
I tend to negate the value of the physical world and reach for realms of fantasy, the imagined, the spiritual. I think that's because I've always found it difficult to live in a body and sought union with something bigger than me for relief. It's that tension between soul and body that compels me to write poetry. If I could choose my ideal god it would be a god that protects me from pain, from people, from life–a god that makes me feel blissed 100% of the time. It would basically be heroin, except it wouldn't be a false god, because I wouldn't be dependent on anyone or anything for it. And I would never come down. And believe me when I say that I have tried to make many tangible things into this god. And believe me when I say that you always come down.  I mean, I have had a lot of those peak experiences in life–those ecstatic whoa moments that feel lotusy and like I imagined 'spirituality' would be.  I am a succubus for those moments. But I've found that even when they aren't attached to a drug or a lover or a guru or X or Y,  they aren't sustainable. But then there is this other kind of spirituality that is tangible, not as showy, the kind that works through people, action based, pause-based, stillness, quiet moments of gratitude for nothing, a not-reaching for glitter, a more Earthy spirituality, laughter. Its lack of glitter, its humanity, is counterintuitive to me. And it is exactly what I need. It has been instrumental in keeping me on the planet.
(more…)