Ellen Frances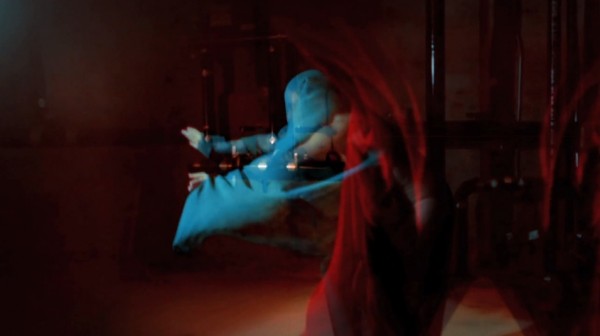 The new short film from Ellen Frances, "Old Theme," follows her 2011 short "Very Beautiful Woman" in a series of intense self-portraits. Her control and exactitude become more apparent with each release, and while this series departs from her music video and other creative work, the same instinct for evocative composition pervades these first two entries. Collaborating this time with Jason Lescalleet and Jenni Hensler, Frances expands on the motifs introduced in the earlier short.
The title comes from a track on Lescalleet's 2012 album Songs About Nothing, and together with another track ('The Loop') from same, the tape musician's musique concrète comprises the majority of the soundtrack. Frances opens with audio from her own ECG looped over spinning gears—blood circulating, heart in constant rhythm, my pulse as yours doth temperately keep time—then crashes it into 'Old Theme' and appears herself as a dancer wound in Hensler's sheer red and blue silk.
Hensler has designed costumes and outfits ranging from Zola Jesus' white-LED spiral collar to dresses for Chelsea Wolfe and styling for Crispin Glover. The silk she uses for Frances' costume frames the face and billows in directions from which the half-hidden body withdraws. Constriction / flow and opaque draping are coordinated and shot by Frances, but the costumes themselves seem like burning auras flung outward to track her body. READ MORE >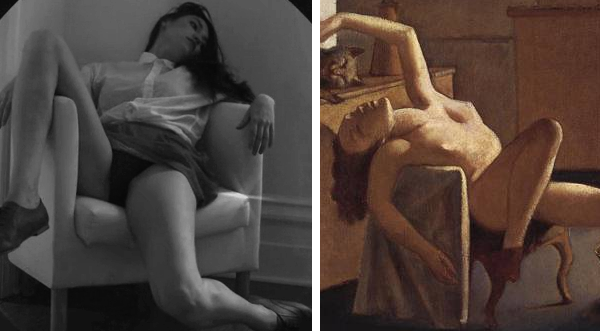 Ellen Frances, director and subject of her short film "Very Beautiful Woman" (2011, Pangur Ban Party) may well be aware of the evocative poses from which hers are derived, or not. Balthus (1908 -2001) has been criticized much for his erotic depictions of underage girls, often struggling in compromised and subordinate positions. Men may offer other men more to look at, but it takes a women to turn it into something formidable. I had to increase the RGB input level in the pic — to fill that room with light, virtually, miles away — to confirm that the dark patch between her legs were indeed panties and not the unkempt bounty of a more natural sort. I only speak so glibly in faith that my inclinations are at first respectful. Frances frames herself inside a cosmetic blush mirror, at first held in her hands, then in what is made to appear as a larger mounted wall mirror — the repeating circular motif functioning as a distancing viewfinder of some sort, lending a layer of documentary mediation and self-cognizance. With Cindy Sherman, Vanessa Beecroft ['s subjects], and perhaps Miranda July, Frances stands in the company of women who have found ways to negotiate the expectations of their bodies without looking away.