fuckscapes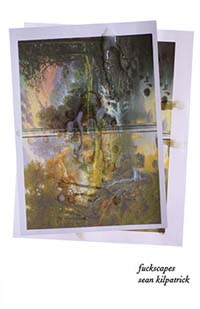 fuckscapes
by Sean Kilpatrick
Blue Square Press, 2011
85 pages / $12  Buy from Blue Square Press
"O you cancer victims, O you hemorrhoid sufferers, O you multiple sclerotics, O you syphilitics, O you cardiac conditions, O you paraplegics, O you catatonics, O you schizoids, O you paranoids, O you hypochondriacs, O you carriers of causes of death, O you suicide candidates, O you potential peacetime casualties, O you potential war dead, O you potential accident victims, O you potential increase in the mortality rate, O you potential dead." – Peter Handke, Offending the Audience
Reading Sean Kilpatrick's first full-length poetry book fuckscapes is an experience that brings to mind Hart Crane's dictum to create "a new word, never before spoken and impossible to actually enunciate." Sean Kilpatrick's poetry gives me that feeling. It is the feeling of a new language. Of expression so impossible I can barely begin to put into words how it makes me feel. But I can tremble before it. This book is insane and suggestive. Its brashness smolders like a confluence of spirit. He says, "bitch I doggy paddle the stars," and "motherfucker my stains dance." No thought is too outrageous, no obscenity unspoken. "Did you get your hysterectomy at Toys R Us?" This is not just poetry with an edge – no, it is beyond all edges, from the other side of the abyss, like gazing into an obsidian mirror at your non-human self.
"I am the temperature of sound
a carbon monoxide ballroom
dreaming public toilets in Sicily
I am the pauper of glows
fraught with bow wow
I am the furnace of every disorder
Saying Christ inside a toy"
What makes Kilpatrick's poetry really outrageous is its annihilation of meaning. This is nothing new, but under Kilpatrick's eye it is totally alive, and puts shame to the "half-assed English majors" and other beholders of vision. In lines like, "time for sanitarium gods to moisturize the day," it's like he's sabotaging the nature of expression. Words like 'absurd' and 'surreal' come to mind, but they are historical commodities, and in no way adequately describe the wild violence Kilpatrick demonstrates.