grammar challenge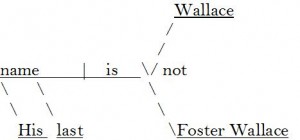 This is for fun.
This is a contest. It is taken from a homework assignment in David Foster Wallace's Extremely Advanced Composition class at Pomona College. It was a creative nonfiction workshop.
The contest is, correct these sentences for what Wallace, at least, perceived as errors in mechanics, grammar, punctuation, syntax, idiom, and/or usage. You get a point every time you are the first person to correct an error in comments (by rewriting the sentence correctly), but I'm going to wait to get lots of answers in to reveal the answers, so don't hesitate to tackle a sentence that someone else has already tried. You may make multiple guesses on the same sentence, and you can guess out of order. Some sentences may have more than one error. One point per error. Prize TBA.
Some of these are pretty basic. Some are very obscure and speak to Wallace's particular peeves, some of which I don't share. The point is to figure out what he thought was wrong with these. No use arguing with a dead man.
And I quote:
English 183D 10 March 2004
" . . . every such phrase anesthetizes a portion of one's brain."–G. Orwell
(1) It was the yuletide season like I had never seen it before.
(2) We were in Innsbruck, Austria and we could not find a place to stay the night.
(3) We passed by the inn.
(4) It has made its way into the mainstream of verbal discourse.
(5) Cross burning began in medieval times on the green hills of Scotland, where clans used them to rally their kin and kith against enemies.
(6) "Get used to it." I said to myself.
(7) As the president is a Christian, he prays every morning.
(8) I can support this claim with quotes from several published sources.
(9) It consisted of only two brief 50-minute workshops which one speaker enticingly described as "therapy session sized."
First, thanks so much to all of you who read/took/RT'd/linked to/commented on the Dave Wallace grammar challenge. I wanted to pay a small, quiet tribute to someone who did a great lot for me, and I am floored by the response. I'm beginning to feel like a broken record in the comments sections, though, as they are increasingly hard to navigate, and many readers have taken similar but separate umbrage with the idea of teaching or testing Standard Written English in the first place. Wallace addresses this in the essay I linked to in the answers post, but as the comments keep rolling in, I want to summarize some of what he taught me about this issue.
So. The quiz was intended to help writing workshop students spot errors w/r/t the current conventions of Standard Written English (SWE). The point is NOT to teach students to lord little rules over their friends; the point is to be more careful writers. And why does knowing the current conventions of SWE help us become careful writers?
Probably the most important reason is to avoid ambiguity. We want to make our meaning clear. Putting modifiers far from what they modify creates extra work for the reader, so we learn to spot this trouble area. Professor Wallace distinguished between good, rich ambiguity (even in grammar–cf the brilliantly dangling modifiers of Barry Hannah) and bad, distracting ambiguity, where we cause our reader to wonder whether we've made a calculated nonstandard choice (which is fine as long as our readers can tell) or merely don't know the current accepted standards are in usage in grammar. He wanted us to avoid the latter kind of ambiguity. READ MORE >