greta gerwig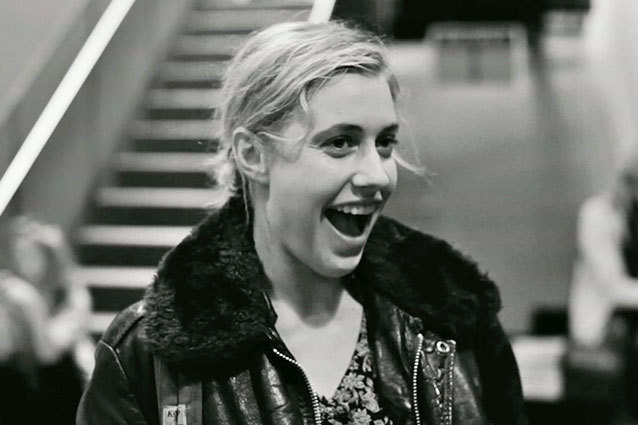 Instead of attending an opening for a collective of internet/new media artists in Red Hook, probably cutting edge, funny, with free alcohol—perhaps some level of thought-provoking, also maybe I would've known some people there—I decided to go see Francis Ha. Something said it was like Baumbach meets Girls, and since Lena Dunham and the aforementioned filmmaker (whose notoriety is mainly based on a 2005 family drama and his friendship with the more marketable and visually stylistic Wes Anderson) both, in the shallow arc of their careers, mark an acme of New York indie-cum-commercial, I figured I'd get more pleasure and cultural experience out of going to the movies. I've always been attracted to the medium's commercial roots: the amount of money it takes for a 90-minute feature to be made: the amount of money it costs to finance advertising: the amount it costs to see it once in theaters. Counteracted against the mutable possibilities for distribution and audience now made possible by the internet. It's a weird time to consider one's self an artist making movies, probably. Weirder than posting photos of a MacBook in a bathtub to a Tumblr.
Even weirder to film your movie in black and white. A bold choice, it actually succeeds, raw and captivating rather than kitschy and meaningless. Baumbach creates a Manhattan-like air to parts of the city heretofore unexplored in traditional analogue (i.e., Brooklyn). Its passé, but really more pastiche, approach to the cinematography feels enhanced by the literal quality of the film print. I don't really know how that works, but certain moments feel faster, like World War II footage or old home movies. Frances (Greta Gerwig) runs down the crosswalks of lower Manhattan to "Modern Love" dancing and sort of fluttering. It's not dramatic; it's comic and natural and sort of frantic.
And that's how the majority of the film is. People in their mid-20s banter and talk around ideas (and the dialogue is good, not parodic, not pandering or striving to capture some extant zenith of hipster inflection). Everyone wants to be an artist, but nobody really cares or knows how. Frances, an aspiring modern dancer and graduate of Vassar, traverses six shared, and unsuitable, residences, not including a 48-hour stint at a friend of an acquaintance's apartment in Paris, over the course of maybe eighteen months. She fails at relationships, she sulks and hopes and talks like an intelligent person who doesn't care about being intelligent. Someone at a dinner party says something like, "Sophie—she's really smart," to which Frances replies something like, "Well, yeah, we're all smart." She claims her friend doesn't read enough, but we only see the protagonist flipping through the center of some thick book, ostensibly Proust, on one of her countless wasted days.
Frances is wildly unmotivated and expects a natural progression of success in the art world from minimal, obligatory efforts. She has basal talent, illusory goals and lots of beer. And she gets drunk a lot, fractiously speaking down paths of unrelatable and undetectable revelation amongst people either too mature for her company or just as immature and wanton, but rich. Frances isn't rich. By economic and social terms, she is absolutely poor, but addressing the harrowing nature and implications of this situation becomes increasingly difficult, as she admits, when confronted by her vague love interest and roommate, that she cannot be poor, essentially because she is educated, art-minded and white. The story really does seem beautiful. It is more honest and intense than Girls, more willing to quietly face the complications of inheriting a broken economy, a feeling and system of entitlement, privilege and unwarranted desire. Nothing could really be more current, topical, desperately vital to address.
Oh god, I'm so sad. Frances Ha comes so close.
This article about hipster darling Greta Gerwig made me think about the unfortunate and sometimes very talented actors and actresses I know who look very much like other breakout stars.  I went to school with an actress who looks like Greta Gerwig.  I wonder if Greta Gerwig's success helps or hurts this other actress.  Probably the latter.  The guy who I'd consider the best actor I ever saw in Yale drama bears a strong resemblance to Johnny Depp.  He used to enjoy the comparison, I think, but not so much now, although he's a working actor in L.A.  (Skeet Ulrich managed to get roles looking just like Depp.  There's worse people you could resemble.) …And then that guy used to date Zoe Kazan, a suddenly ubiquitous actress who I think was a year or two behind me in school but who I didn't know at all.  And I briefly dated an actress a few years behind Kazan who strongly resembles her (same looks, same education, no Hollywood royalty background–that kinda sucks) and (an older version of) Dakota Fanning.  I'd find that kind of vexing if I were in her situation.
But I guess I have been.  READ MORE >