Harper's Magazine
THE BRIEF HISTORY OF HARPER'S CLUB
Six days ago I received an email with the subject: "HARPER'S MAGAZINE RENEWAL." The line of argumentation the email included was constructed by the magazine's "Circulation Director." I never read it, because I believe everything it said: I didn't need to be persuaded  in regards to the absolute necessity of my continued subscription. [1]
The motive that initially made me subscribe to Harper's was my desire to intellectually engage on a more personal level with a friend from college, Dan. We both agreed that the depth of our homosocial rapports was not adequately profound, and because we enjoyed discussing with one another we eventually came up with the idea of what we jocularly referred to as "Harper's Club." [2] Dan's academic interests were very different than mine, but we both enjoyed challenging various points of view in our pursuit of forming an informed opinion.
The planning of The Club's meetings became impossible and our friendship never deepened. Regardless of this failure I could not be happier for the epiphenomenal ramifications of our failed initiative. By encouraging me to think about familiar subjects in different ways, "Harper's Club" regularly challenged me as a thinker. This held true even when I was the solitary member of the Club, and continues to be valid to this day. Every time a new issue arrives in my mailbox I expect to encounter articles that serve this mission. My expectations are pleasantly surpassed consistently.

THOUGHTS ON ADS (ATTN: MIGHT BE FEELINGS!)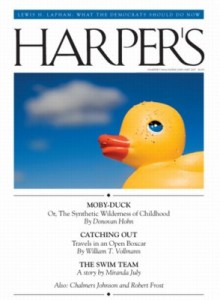 Harper's is my favorite magazine, primarily because of their 'index,' 'findings,' and 'readings' sections. The editing is rather conceptual — in the way 'objective' journalistic facts are asserted rhetorically (even humorously) through their juxtaposition. It's a weird mash of heady inquiry and stuffy sarcasm, and I often find myself laughing out loud.
In 'findings,' always the last page, new discoveries are presented and written with an aesthetic glint for the absurd evocative of the best surrealism. For example:
A Viennese chemist concluded that bellybutton fluff is a combination of clothing fibers, sweat, dust, and fat wicked into the navel by body hairs […]; Placentas were appearing in the sewers of Illinois […]; In Hawaii, a woman found a $5 bill inside a coconut […]; Americans were losing their religion.
I kind of screwed that up by picking out my favorite lines — which inadvertently implicates my point that the editing is awesome. If non-fiction is the launching pad for fiction, this is where it's at.