Jennifer Bassett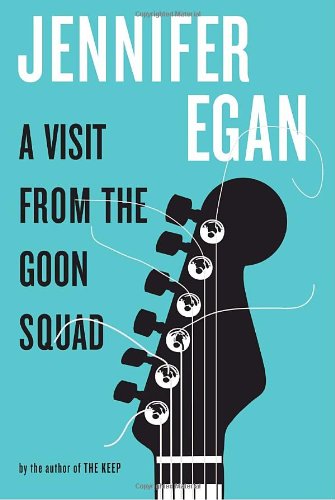 A Visit from the Goon Squad by Jennifer Egan (Random House)
pp. 288, $25.95 list ($14.27 at above-linked B&N)
Reviewed by Jennifer Bassett
.
Jennifer Egan's latest novel A Visit from the Goon Squad is a hard to put down cross between trashy rock n' roll fiction and post-modern masterpiece. It glitters as much as it stumbles—but overall, it further affirms Egan (as did her last novel The Keep) as one of the most interesting and exciting writers working today.
The novel, which reads more like interrelated short stories circles around aging punk rocker turned big-time record exec Bennie Salazar and his kleptomaniac assistant Sasha. From here, we learn of the various people they are associated with – from Bennie's past as a punk kid in San Francisco circa 1979 to Sasha's years in seedy Naples as a teenaged runaway. There's also the would-be starlet who shuns the spotlight after an interview gone awry and the failed publicist who takes a job helping out a Latin American dictator in order to support her daughter and revitalize her career. Overall, these characters are all united through their relationship to time and music—the music bringing the characters back to one pivotal moment that, even as the age, they still seem to exist in.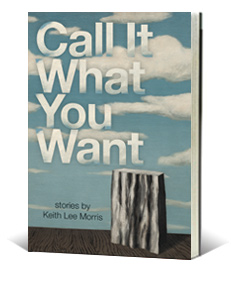 Call it What You Want: Stories by Keith Lee Morris. Tin House Books. pp. 264, $14.95 list ($10.76 at the above-linked B&N.com).
Reviewed by Jennifer Bassett.
.
My first "real" writing class was in high school and taught by a young man who had just graduated from an MFA program. He was excited and passionate and on the first day of class he read us Denis Johnson's "Car Crash While Hitchhiking" from Jesus' Son. We were all riveted. First of all, the story involved drugs (!) and secondly the writing was so sharp, it practically slit our wrists. For me, personally, that moment was particularly pivotal. Jesus' Son and Johnson's particular brand of writing—tough, honest, gritty, male, but with an undercurrent of boyish vulnerability—came to represent a standard by which I judged everything else.