June 21st, 2010 / 11:29 am
Uncategorized
Guest Posts
Risky Business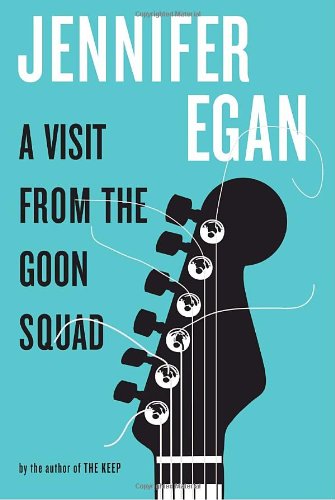 A Visit from the Goon Squad by Jennifer Egan (Random House)
pp. 288, $25.95 list ($14.27 at above-linked B&N)
Reviewed by Jennifer Bassett
.
Jennifer Egan's latest novel A Visit from the Goon Squad is a hard to put down cross between trashy rock n' roll fiction and post-modern masterpiece. It glitters as much as it stumbles—but overall, it further affirms Egan (as did her last novel The Keep) as one of the most interesting and exciting writers working today.
The novel, which reads more like interrelated short stories circles around aging punk rocker turned big-time record exec Bennie Salazar and his kleptomaniac assistant Sasha. From here, we learn of the various people they are associated with – from Bennie's past as a punk kid in San Francisco circa 1979 to Sasha's years in seedy Naples as a teenaged runaway. There's also the would-be starlet who shuns the spotlight after an interview gone awry and the failed publicist who takes a job helping out a Latin American dictator in order to support her daughter and revitalize her career. Overall, these characters are all united through their relationship to time and music—the music bringing the characters back to one pivotal moment that, even as the age, they still seem to exist in.
Egan is a gutsy writer. As a result, sometimes her more outrageous visions border on ridiculous as with the recount of a PR party gone disastrously wrong due to a light show/turned safety hazard. Egan writes:"Doll had a vision: broad translucent trays of oil and water suspended beneath small brightly colored spotlights whose heat would make the opposing liquids twist and bubble and swirl…they marveled at the lit trays…and then they began to collapse, flop and drape and fall away, sending scalding oil onto the heads of every glamorous person in the country and some other countries too…" And yet, while the scene doesn't ring quite true and feels a bit contrived, it could be also read as a moment of the author's own self-awareness – when hasn't a writer had a crazy idea they put to word, so amazing in the moment, but so awful when executed? Other times, Egan's guts pay off and the book stuns and surprises in its inventiveness – like when Bennie's old friend Scotty slaps a fish he caught in the East River down on his desk as a gift.
And then there's the Powerpoint section…While others may deem Egan's use of Powerpoint to be brilliant and inventive, I just kind of found it to be a gimmicky cop-out. How much more excited would I have been to have read the content's of Egan's Powerpoint instead as prose? And the below interview in the Chicago Tribune only made me dislike the whole thing even more:
"There are things you can do in PowerPoint that you can't do in conventional fiction," says Egan, 47, from her home in Brooklyn, N.Y., where she lives with her husband and sons, ages 7 and 9. PowerPoint exists in a continuous present. I fear technology, of course, and wonder about its effect on our inner lives, but this was a case where it made me realize that there are possibilities out there that are so interesting."
After reading this, I couldn't help but feel that Egan probably never held a corporate job in her life. Because if she did, she'd probably feel a whole lot more like me: Powerpoint sucks. Yes, it can be a useful tool, but it is the opposite of creative, it reduces, it constricts, it glosses, its boring, and on a bad day, it might just sum up everything that is flawed about our current culture. So while I again commend her guts and understand why it may have appealed to her as a concept—maybe her hope was to take it back and use it for something inspiring?—I'd prefer not to see it in a novel again.
Still, don't let that deter you from picking up this book. It succeeds more than it falters and at least its flaws make you think.
+
Jennifer Bassett is a former book editor and literary magazine editor. She works at a brand consultancy, writes book and music reviews, and plays the organ and synth in a band called The Living Kills.
Tags: A Visit from the Goon Squad, Jennifer Bassett, Jennifer Egan
11 Comments