jordan stempleman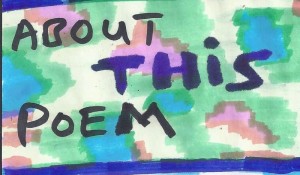 I've been working on a number of "song" poems, as in songs that are sung under one's breath, never really meant to be listened to. The songs are often unkempt, ancient and embarrassing. The identity of the original singer is unknown and unimportant, as these songs are constantly getting sung somewhere.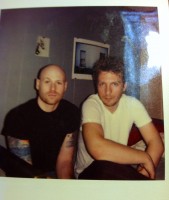 Ryan MacDonald is a lecturer in the Studio Art Department at UMass, Amherst. He is the 2012 winner of the American Short(er) Fiction award. His collection of stories, The Observable Characteristics of Organisms will be released from FC2 in August 2014.
Jordan Stempleman's collections include No, Not Today (Magic Helicopter Press 2012) and the forthcoming Wallop (Magic Helicopter Press 2014). He edits The Continental Review, runs the Common Sense Reading Series, & teaches at the Kansas City Art Institute. Find out more here.

 a kind of homage and alternative (a companion series, if you will) to the incredible work Alex Dimitrov and the rest of the team at the The Academy of American Poets are doing.

Comments Off

on SONG 14 — POEM-A-DAY from THE ACADEMY OF AMERICAN LUNATICS (#17)
May 1st, 2014 / 9:05 am
What's nifty about earworms is that they're lodged inside of you because they found something to feed on. I'm pushing the metaphor biological, sure. Thinking more of an "ear parasite." But what if things burrow into us because we're somehow fertile for them? In ways we aren't really aware of? What if we're drawn when we're drawn not because of what we want, but because beauty is looking for a brain to eat? I was going to get even more ridiculous and talk about dentistry, but I should probably just shut up and tell you the point: Jordan Stempleman's poetry gets stuck in my head. READ MORE >