HTMLGIANT / Lina Ramona Vitkauskas
A D Jameson
I'm pleased to announce that the tenth issue of Requited is now online and contains:
Furthermore, in the journal's rapidly-growing archives, you'll find poetry by Molly Gaudry and Nate Pritts; fiction by James Tadd Adcox, Jimmy Chen, Jac Jemc, Tim Jones-Yelvington, and Suzanne Scanlon; nonfiction by William Bowers, Jeremy M. Davies, Julianne Hill, Steve Katz, Mark Rappaport, Keiler Roberts, Viktor Shklovsky, and Curtis White; interviews with Robert Ashley and Vanessa Place—and other wonderful things.
Enjoy!
Author News
/
2 Comments
January 23rd, 2014 / 7:56 pm
Janice Lee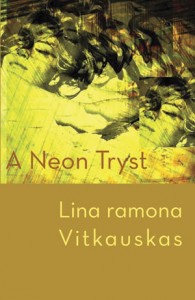 A Neon Tryst
By Lina ramona Vitkauskas
Shearsman Books, 2013
84 pages / $15  Buy from Amazon or SPD
Lina ramona Vitkauskas's ekphrastic book of poetry, A Neon Tryst, has just been released by UK publisher, Shearsman Books. It begins:
Contents
Black Patent Translations
to L'Eclisse                                                                                                     7
Wilson, 722
to Seconds                                                                                                      29
Into the Black Flocks
to Wild Strawberries                                                                                        59
These parts each begin with a short summary of their respective film:
L'Eclisse (1962) stars the sleek-silver-hypnotic Monica Vitti as a lost woman re-discovering herself after leaving her husband…
Seconds (1966) stars Rock Hudson as an aging, bored, East-coast man who is encouraged to commit pseudocide by an ominous group of wealthy men called 'The Company'…
Bergman's classic film, Wild Strawberries (1957), tells the tale of an aged, retired professor travelling cross-country to his alma mater to receive a lifetime achievement award.
I liked being reminded of Antonioni's L'Eclisse, in particular, geometric Monica Vitti dripping across the screen, her crystalline angles and lines, filmed in black-and-white.
Printed on the back cover of A Neon Tryst is this:
all the main characters share an internal conflict—losing identity with the passage of time.
The book's cover art is a still from the film, of Vitti's sleeping face, doubled and cropped. Vitkauskas manipulated the image herself. She has made it wilder: she has given it color: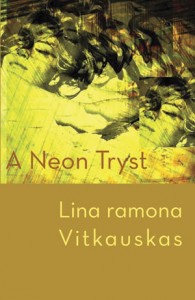 This is a Neon Tryst. The monochrome Monica Vitti has been given layers. Her sleeping eyes lit from below, impressed from above, the Vitti on the cover sends a different signal than the Vitti of the film. We are reminded whose tryst this is—Vitkauskas's: electric, in neon.
L'Eclisse, Seconds, and The Wild Strawberries were all made during the late 50s and early- to mid-60s, in black-and-white.
Reviews
/
3 Comments
July 29th, 2013 / 11:00 am
A D Jameson
Requited is an online journal that I help edit. I'm pleased to announce that the seventh issue is now up. In the section that is my province (essays) you will find:
There is also a review, by Daniel Green, of the book We Wanted to Be Writers: Life, Love and Literature at the Iowa Writer's Workshop, edited by Eric Olsen and Glen Schaeffer (Skyhorse Publishing, 2011).
In the rest of the issue you will find:
Requited is edited by Amanda Marbais (fiction), H.V. Crammond (poetry), Ira S. Murfin (performance texts), Fereshteh Toosi (visual art and videos), and myself (essays and reviews). We publish two issues per year. Our complete archive is accessible here, and our submission guidelines are here. If you have any further questions or comments about the journal, I would be happy to receive them.
Enjoy Issue 7!
Author News
/
2 Comments
July 10th, 2012 / 8:01 am