linkdump.com
Today seems quiet. Everyone is probably packing?
Threats by Amelia Gray is out, and I can tell you it'll do to your head/brain/skull all things promised, and more. (I had the pleasure of reading an advance copy, borrowed from someone who had borrowed it [now I have my own], but it is available HERE)
Picador has been reprinting the novels of Donald Antrim with new intros: George Saunders (The Verificationist), Jonathan Franzen (The Hundred Brothers), and Jeffrey Eugenides (Elect Mr. Robinson for a Better World). Elect Mr. Robinson… will be out this June.
Kaleidoscope is a randomized novella by Jianyu Pên.
Madras Press recently released a special edition of "Stone Animals" by Kelly Link, with illustrations and a letterpressed cover.
The second issue of The Coffin Factory just came out, with work by Aimee Bender, Lydia Davis, Edwidge Danticat, Justin Taylor, Adam Wilson, etc. (more later)
The Guggenheim has digitized many of its (out-of-print) publications.
Redivider FINALLY (yes I'm calling you out) has an updated website with the new issue, featuring the talented Mike Young, Mary Miller, J.A. Tyler, Melissa Broder, etc. The cover is nice: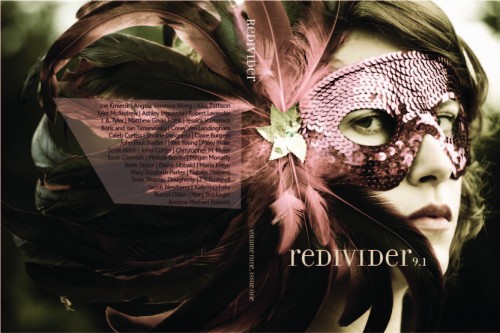 Some of these things will be available at AWP. Do you think someone will write a blog post soon called "AWP recap?" What if that didn't happen?