Thursday, June 25th, 2009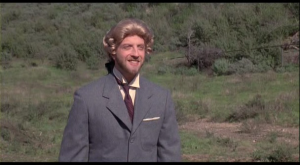 The other day, I posted some junk on the long-lost Gilbert Rogin from the latest installment of the the Lowbrow Reader. Today, I will share a brief email correspondence with the equally reclusive editor of that journal, Jay Ruttenberg.
Good day sir. Would you mind talking a bit about the genesis of the Lowbrow Reader? Did you always know that it would become the phenomenon it has?
We started the Lowbrow Reader in the fall of 2000 and published the first issue the following year. At the time, the smart people of the world were all conceiving online things, so what did I do? Started a print publication. The original concept was to mix comedy and commentary about comedy—specifically the kind of "lowbrow" fare that so often gets condemned by traditional media. I'm a big Adam Sandler fan, and could never understand how "Billy Madison"—which I consider to be a masterpiece—would be reviled by critics. In some weird way, it seemed akin to elements of the mainstream '60s press treating the Beatles or Bob Dylan as some kind of passing teen fad.
Did I always know it would become the phenomenon it has? Our publication is blessed with eight readers. When we launched, never in my wildest dreams did I think we would surpass five. I guess some people just have a special gift.
Read the rest of this offensive tete-a-tete after these messages.