moshe kasher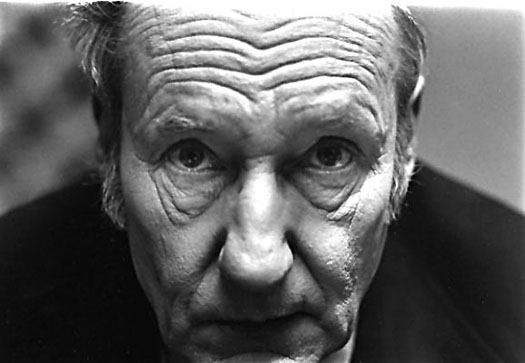 A couple of my favorite podcasts have had some pretty amazing episodes lately. Go download them if you are so inclined.
1. First, the August 20th episode of Negativland's Over the Edge radio show was dedicated to, and entirely made up of, recordings of or about William Burroughs.
So, I loved William Burroughs in high school and the first couple of years of college. I tired of him in my later college years and after for quite a while. And now, I find myself turning back to him again, rediscovering an appreciation for his work. Does Burroughs come in and go out like a tide for the rest of you as well?
(I had a friend who bartended at a place in Lawrence that was, people said, owned by Burroughs's lawyer, and he used to give me free drinks all the time. This, in some sideways way also makes me think of Burroughs fondly, though he was in no way responsible for me getting free drinks.)
2. Marc Maron—who I, and other people named Matt(y), like quite a bit and have written about in the past—had a really fascinating discussion with a comedian named Moshe Kasher on a recent episode.
The whole question of subculture and identity became the core of the discussion. Kasher is the son of Hasidic Jews who were also both deaf. Both he and Marc are sober, as well. Jewish culture, and a Jewish kid who idolizes Oakland's gangsta rap (Spice One, Too Short) culture. Deaf culture. The culture of sobriety and therapy. Stand up culture. Really interesting stuff.
Moshe talking about people who use the phrase "there's really no translation for it in English," an absurd claim that was always been a pet peeve of mine, as well:
Thank you, Moshe. Thank you, Marc. Thank you, Don.