Matthew Simmons
Sam Lipsyte on WTF. (Updated a little.)
httpv://www.youtube.com/watch?v=Up0IP9fQu9Q
Marc Maron, a pretty damn funny comedian and former Air America broadcaster, has moved his ranty, neurotic brilliance to a podcast called WTF.
Most of the time, he spends the "interview" portion of the podcast talking to fellow comedians, but a recent episode featured a writer I assume is beloved by Giant readers: Sam Lipsyte.
A couple of highlights. Maron at one point says: "I've asked you, when you've started novels, what it's about, you're like 'I don't know, I'm working around these two sentences.'"
And discussing Lipsyte's lack of a website, and FSG's suggestions that Lipsyte get a little more online savvy to help sell a few books, Sam says: "They can't order you to tweet. It's not that kind of society yet."
An in-depth, craft-based writing discussion? Nah. Who the hell wants that all the time. Instead its two friends talking and making each other laugh. Sam also reads from his upcoming novel, The Ask. It's worth it for that alone.
A couple of hours after I wrote this post, this arrived in my mail: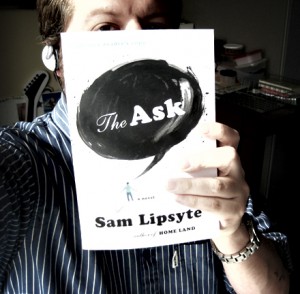 Huh? Tonight I will be posting about the deed to a modest house on Bainbridge Island and a case of Tripel Karmeliet. And possibly a lot of Xanax.
20 Comments