new school in exile
from New School in Exile, posted ~ 3 AM: Occupation Wins Major Victory over University Administration in 3rd Day
After more than two weeks of concerted actions on campus, students in the occupation were finally able to win significant victories in the ongoing struggle to improve the New School. Those victories include: an agreement not to press charges or impose academic punishments for students involved in the protest, the implementation of a Socially Responsible Investing (SRI) committee within the university, more autonomy and power for Student Senate to communicate with the student body, more representation on the Board of Trustees for students and faculty, and finally the creation of more student study space on campus. As of approximately 4am this morning New School and other students have left the 65 5th Avenue building and declared the occupation successful, ending this stage of the action.
You can read the full text of the agreement reached with President Kerrey here.
(If you missed my original post about this story, it's here.)
Random
/
Comments Off

on WHILE YOU WERE SLEEPING: New School in Exile WINS WINS WINS
December 19th, 2008 / 11:38 am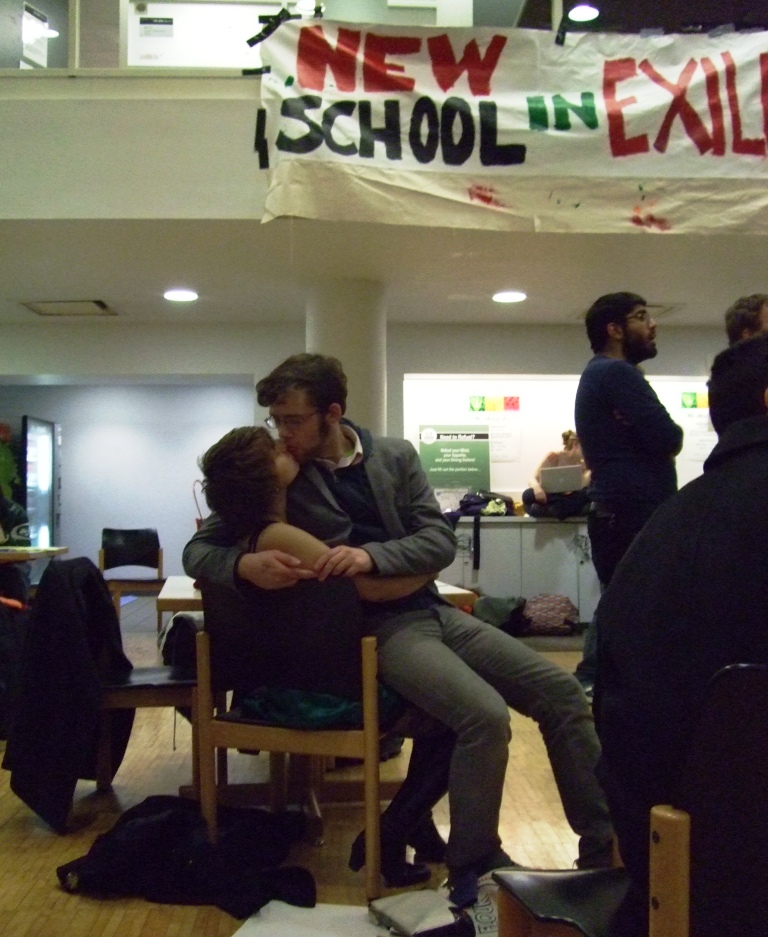 This isn't strictly literary, but I thought people would be interested to hear that the New School occupation is now into its 20-somethingth hour and as near as I can tell, going strong. After reading some snarks about the protesters on Gawker this afternoon, I decided to stop what I was doing, head into Manhattan and check things out for myself. I did my MFA at New School (see? not totally irrelevant to literature!) and so was able to get into the building. They have a list of demands, which you can read on their frequently-updated website, but the top item on the list is the removal of president Bob Kerrey, the former Democratic governor of and senator from Nebraska.
Everyone at New School–teachers and students alike–has basically known Bob Kerrey is a joke, at least as far back as my starting the MFA  program (Fall 2005). After he brought both John McCain and Newt Gingrich to speak at the school, it became clear what his real agenda was: collect a big fat fucking paycheck while using the school to set the stage for his next political campaign. Thanks but no thanks you center-right impostor. Good riddance to neo-liberal rubbish. The sooner the better.
I sat and listened to the direct democracy at work for about an hour and snapped some pictures from the center of the occupation, which you'll find after the jump.