Nine stories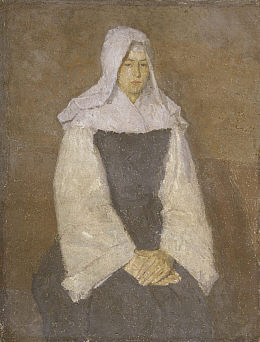 As cued by asstastic pr, here's a valentine's post:
My favorite love story is "De Daumier-Smith's Blue Period" from Nine Stories by J.D. Salinger. There's something rather unacademic and cliche about loving Salinger, but seriously, he might be the best writer in the world.
Let me be brief, redundent, and pedantic: "De Daumier-Smith's Blue Period" is about a young smug painter who moves to Canada to teach painting with a weird Japanese couple; hilarity ensues. (I'm butchering this already.) Put short, he is a lonely asshole. He falls in love with a student — through paintings she sends in the mail for him to critique — and, in that sacred way, courts her with the untaught heart that makes love unbearable. The student is a nun Smith invisions as young ripe 18yr old nubile, in denial of the fact that she's really around 60 yrs old. Upon recieving Smith's heated letter/booty call, the seminary retracts the nun's enrollment in the painting program. Smith loses not only his prospects of getting laid, but much more (there's a lot of Christ symbolic stuff that I won't get into). Smith dresses up in a tux and gets hammered, to make a memory out of nothing, and through a stunning moment of reflected sunrise light only Salinger could imagine and convey, Smith realises  that "everyone is a nun," which, in my mind, reads as "god is everywhere."
Salinger's god is love. Happy Valentine's day.