normally special
xTx has two books published Normally Special and Nobody Trusts a Black Magician.  She has been published at Lamination Colony, Metazen, Word Riot, and a million other places.  I don't actually know if xTx is a human being or a hamster but her book made me have a lot of emotions.  Her stories "Standoff" and "The Mill Pond" show an amazing understanding of the craft of writing but at the same time they don't lose emotion.
NC: Who are some of your favorite authors and describe why you like them?  But also what writers have influenced your style?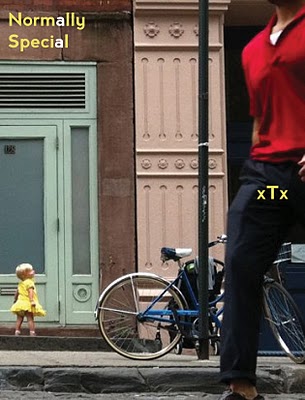 xTx: I always feel like I'm going to take a bullet for admitting this but, whatever. I'm not going to lie so I can fit in with the cool kids.   The mainstream authors that always come to mind when I am asked this question are Stephen King, Chuck Palahniuk and Jonathan Ames.  Stephen King because I started reading him when I was super young and the stories he told blew my mind.  I loved the evil versus good and the ugly and the weird and the scary he always brought.  I love Chuck because that shit is fucked up good, yo; his stories, his characters, the detail, the uniqueness, the strange.  I can never get tired of Chuck.  I like Jonathan Ames because he's so honest, self-deprecating and funny.
But to be honest, after I devoured all of their books, I really haven't read these guys in a handful of years.  Especially since I discovered the online lit scene and started reading all the zines that were out there and finding out there were 'regular' people out there making words that could also blow me away.
The books/authors that have blown me away recently are:  Paula Bomer/Baby & Other Stories, Rachel P. Glaser/Pee On Water, Lindsay Hunter/Daddy's, Danielle Evans/Before You Suffocate Your Own Fool Self, and Alissa Nutting/Unclean Jobs for Women and Girls.  Amazing books…all of them.
I can't really say that any writers have influenced my style, at least consciously.  I mean, maybe years of reading King and then Chuck put me in a place that savors the fucked up, dark and magical.  Or maybe that place was always there and King and Chuck found them.  If anything, being exposed to so much online literature taught me that there are so many ways to write and so many ways to tell a story and that gave me the confidence to trust in how I wanted to write things even if I felt that maybe it was the 'wrong' way.