Rachel Levy
Founded in 1974, FC2 is one of America's best-known ongoing literary experiments and progressive art communities. In honor of FC2's fortieth birthday, publisher Lance Olsen has generously answered the following questions about publishing, longevity, and innovation.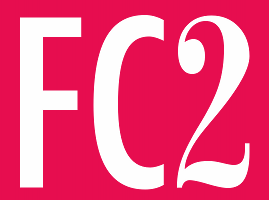 ***

Rachel: What is FC2?
Lance: FC2—short for Fiction Collective Two—is a small, independent, not-for-profit press run by and for innovative authors. One of America's best-known ongoing literary experiments and progressive art communities, for the last 40 years FC2 has dedicated itself to bringing out work too challenging or heterodox for the commercial milieu. Originally founded in 1974 as Fiction Collective by a handful of writers—Ronald Sukenick, Raymond Federman, and Jonathan Baumbach among them—FC2 has so far published more than 200 books by more than 100 authors.
Rachel: What does FC2 mean to you?
Lance: FC2 is an ongoing investigation into what innovative writing means—and that meaning is continuously in flux.  One of the great joys for me about our editorial meetings, which take place once or twice in the fall, and once or twice in the spring, is that they make up an ongoing conversation about such troubled and troubling terms as "cutting-edge," "artistically adventurous," and "experimental."
Those terms mean something else now than they did in, say, 1974; will mean something next Tuesday than they did last Monday; will mean something different to one person than to another—which is to say such terms are inherently unstable ones, open to ongoing modification, depending on who you are, where you are, what you've read, and so on.  That is, they are terms always-already in-process.
By my lights, at the heart of them are a series of implied questions: what is narrative? what are its assumptions? what are its politics and social dynamics? its limits? how does narrative engage with the problematics of representation? identity? temporality? gender? genre? ideas of "literature" and "the literary"? authorship? readership and the act of reading in the twenty-first century?
In other words, perhaps a fruitful way of approaching a tentative definition of such narrativity—represented with respect to FC2 by such diverse authors as Lucy Corin and Brian Evenson, Cris Mazza and Amelia Gray, Michael Martone and Stephen Graham Jones, Matt Kirkpatrick and Samuel R. Delany, Michael Joyce and Clarence Major, Vanessa Place and Hilary Plum, Joanna Ruocco and Leslie Scalapino, Melanie Rae Thon and Yuriy Tarnawsky, Steve Katz and Mac Wellman, Diane Williams and Lidia Yuknavitch—might be to suggest it is the sort that includes a self-reflective awareness of and engagement with theoretical inquiry, concerns, and obsessions.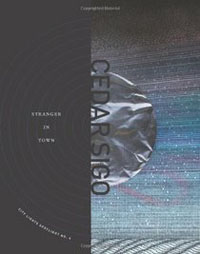 Stranger In Town
by Cedar Sigo
City Lights Books, 2010
100 pages / $13.95  Buy from City Lights
"One must keep holy the edges of fragments." That line appears twice in Cedar Sigo's second collection of poems, Stranger in Town, and brings to my mind the kabbalistic notion of the shattered vessels. In the beginning, according to Kabbalah, was a divine light so potent that it shattered the vessels in which it was contained, scattering sparks and shards throughout all of creation. Mankind was charged with the task of recovering the fragments and restoring the vessels.