robert j. baumann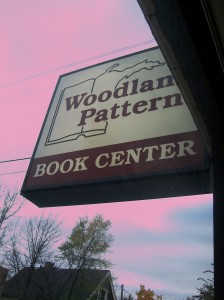 I've been interested in Woodland Pattern for years. The bookstore, located in Milwaukee, WI, is so massive, and has been around for so long, that it's become a vital resource just by virtue of its existence. It's not too much to call it an anchor of the poetry economy in the USA. Maybe it isn't selling millions of books, but its role as a stalwart icon can't be underestimated. Recently Robert Baumann, a WP employee, Milwaukee native, and literature master (and the proprietor of the amazing Mitzvah Chaps), Dropbox'd me a pile of photos from the store and I asked him some questions about them.
Thanks for doing this, Robert. I've actually wanted to interview someone at Woodland Pattern since I started writing at HTMLGiant. So, first, can you give us some vitals on the store? When was it started? How many employees?
Woodland Pattern–or Woodie P as we lovingly call it–just celebrated its 30th anniversary in 2010; it moved to the location on E. Locust Street in the Riverwest neighborhood in 1979, when founders Karl Gartung and Anne Kingsbury purchased the building. Immediately, they started hosting events: Anne & Karl did a lot to get the "biggies" of "avant garde poetry" here from the get-go. Right now there are six full-time employees, not to mention our amazing board (all volunteers); also, the help of great friends makes a lot of our events possible.
How many books are there? What do you carry?
In terms of the bookstore, we've got an inventory of ~15,000 books, and the vast majority of those–I'd say over 10,000–are small press and DIY.
READ MORE >