HTMLGIANT / solar luxuriance
Janice Lee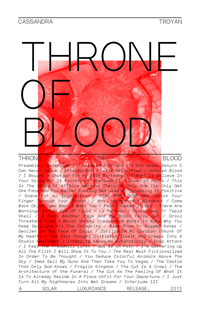 Throne of Blood
by Cassandra Troyan
Solar Luxuriance, February 2013
90 pages / $13 Pre-order from Solar Luxiariance
CHICKEN SALAD SANDWICH
CHICKEN SALAD SANDWICH
CHICKEN SALAD SANDWICH
-Throne of Blood
Throne of Blood begins with a Preamble. The Preamble sets the tone for the book, just like the Preamble to the United States Constitution is a brief introductory statement of the Constitution's fundamental purposes and guiding principles. Presumably, the poem would provide some of those for this book, Throne of Blood.
• "the drained lake muds with the girls of winter bloated and tangled at the bottom in the wreckage"
• "the smell of dead meat."
• "the scent of rotting bowels"
• "Myafhhhauckingancaeetchesss, arrreuu stheyismines myown FEEUUCKING MEAAT!andTTTthisisfeeuucuuuckibngMINE!"
• "I slammed his head into the concrete floor"
• Edith Piaf
The Preamble begins with lyrical horror. The narrator is unbothered by dead women crowding the drained lake and the house, even when their bodies are used for decoration or masturbation by the male character. The narrator's point of view changes when it becomes clear that the male character is the one making women into corpses.
The horror and violence, more specifically, violence against women, casts a long shadow over the rest of the book. Where the Preamble takes on horror in a narrative mode, the rest of the book inverts that formula and approachesit in a more figurative or linguistic or speculative way:
"If there could be a moment of self-realized terror,
where everyone in the world kills his or herself at the same time."
Reviews
/
No Comments
February 19th, 2013 / 12:00 pm
Janice Lee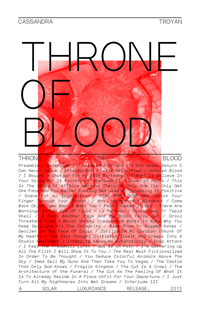 Throne of Blood
by Cassandra Troyan
Solar Luxuriance, February 2013
90 pages / $13  Pre-order from Solar Luxiariance
Throne of Blood makes me believe Cassandra Troyan chews razorblades and has freezing skin and needles for fingers, but for some reason, I don't feel like shying away as she comes closer. Maybe it's because I sense a sort of hidden warmth she has for her demons. They're like dozens of hands reaching out that scare you, but don't mean to.
I wet myself over the thought of roses
of making love to a hospital bed.Declarations of sex to bags
filled with liquids substituting
organs now present as witnesses.Walking into the divide an abyss the possibility
of apathy calculations of sentimentality amiss.Ripped out my vein limbs
overgrown.
Love makes you grow.
Honey drips from a sloe-eyed doe.Get cocooned in the sickness
a sweetening sludge.When the IV tubes get sugar clogged
it is obviously because you are selfish
and I am dead.When weighted I materialize.
Let's just hover until this distance retreats.
(From "YOU SEDUCE COLORFUL ANIMALS ABOVE THE SKY")
When I first started reading fiction as a method of learning about writing, I was obsessed with the grotesque, but it feels like Troyan has leveled up the concept here. For roughly a third of the book, I read the speakers as being inhuman simply because they seemed so far removed from humanity that I refused to believe they could be like me (which sounds like a pretty fine accomplishment to me).
Reviews
/
4 Comments
February 19th, 2013 / 12:00 pm
Ken Baumann
The excellent David Peak and Mike Kitchell have new books from SOLAR LUXURIANCE, in an edition of 30 and 10. Grab one up before they're gone. Here's half a descriptor for Mike's piece: One morning I woke up to find my browser open to an archive of an online Deleuze & Guattari mailing list. Scrolling through it I was struck by a narrative text by a user who went by the name of "rongrong." Nobody at any other point in the archive made any reference to rongrong's enigmatic post. I thought it was amazing, a hybrid theory/text that was interesting, distant, and intelligent. I decided, as an homage to the hidden mysteries of the web, that I would rewrite rongrong's text, leaving occasional fragments verbatim.
Presses
/
9 Comments
October 8th, 2010 / 7:41 pm