The Diary of a Young Girl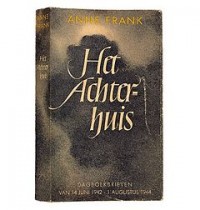 The Diary of a Young Girl
by Anne Frank
Bantam Books, 1993
304 pages / $5.99 buy from Powell's
1. I want to write about Anne Frank. I am mid-way through reading The Diary of a Young Girl and I know what is coming. The discovery of the eight inhabitants of the annex, their arrests, their being shipped to concentration camps. Their deaths. I know this is coming, but I do not want it to happen.
2. I have slowed my reading. Normally I read fast. A book every 2-3 days. But I have dragged Anne's diary out for over a week now to forestall the ending.
3. When I first begin reading, I am conscious of wanting to have some kind of emotional reaction to The Diary of a Young Girl. I want Anne's writing to affect me, but am worried that the desire to feel something w/r/t Anne Frank is somehow wrong.
4. Not only that, but I worry that wanting to feel something, and being conscious of that want, will actually preclude me from feeling anything.
5. In her diary, Anne makes reference to other things she has written: fairy tales and the opening of a novel. I want to read them. I google 'anne frank fiction'. The results are confounding. On the first page of results are a number of links claiming that Anne Frank's diary is itself fiction. I do not click on these links and I shake my head and scroll down further.
6. There is a link entitled 'Do you know where I can read an Anne Frank fanfiction?' and I get excited. It seems to me a wonderful idea to write fan fiction. I click on the link and read:
The reason it's no longer at fanfiction.net is due to a petition stating writing about her is disrespectful and a violation of the rules as she is not a fictional character.
Um, pretty much all else I could come up with involved cross-overs, mainly one about Dragon Ball Z in which Hitler becomes a super saiyan. Good luck in your search, but as the diary isn't fiction, trying to add fiction to it may take more away than add to her story, sad though the end may be.
7. When Anne writes about her feelings for Peter van Pels, it breaks my heart. It makes me feel sick and it makes me grit my teeth that the two of them will be dead once I have finished reading.
8. Other things that make me feel sick and make me grit my teeth: that Anne was unable to do everything she wished to do. That she wanted to be a reporter and a writer and she wanted to be married and she wanted someone to love and share her true self with and that she was unable to do this.
9. I think that maybe I could write a different ending for her. I could write the life that she never got to live.
10. Is wanting to write a different ending for Anne cruel and in bad taste? Would it 'take more away than add' to her story? READ MORE >