The Mandarin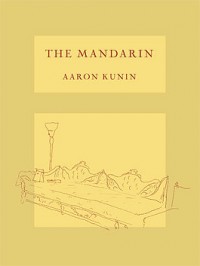 The Mandarin
by Aaron Kunin
Fence Books, 2008
209 pages / $17.95 buy from Fence
1) Language is a form of disobedience.
2) Or: words have no loyalty. Or: language facilitates perversity. Or: to speak is to be reminded of language's inescapable techné. Or: to employ language is to court malfunction. Or: to write is to run the risk of making more sense than you ever intended. Or: language is always on the cusp of being carried away. Or: talking is almost always talking back. Or: language was designed in emulation of water, a force, a flow without shape but the rare ability to hunt direction down and wear it out. Or: nothing could be more nonsensical than if our every utterance were understood literally. Or: you teach a child to say "no" at your own peril; those early "no"'s are no ventriloquism act. Or: the so-called precise word is precisely that, so-called, a chimera. Or: to speak is to confuse irrevocably the matter of whether one is announcing something before it happens, or whether one is announcing something as a way of compelling its presence to coincide with its occurrence.
3) Aaron Kunin's novel The Mandarin is a self-conscious (perhaps even sentient) construction of language, some phenomena I wish to differentiate from the notion of a linguistic construction… For I want the suggest that The Mandarin is more like a self-organizing discourse than it is a "work" composed-slash-authored. The Mandarin is thus less a novel as commonly defined in terms of "long story" than it is an exercise in novel-ese, or the novel as style. This is not to say that either text or author fail in any way to fully realize whatever metaphysical potential is latent in the novel-as-form. Rather, what I want to claim for this book is that it is a brilliant, occasionally scathing, yet ultimately poignant tribute to the inherent limitations of an imagination whose eide and eidola alike are utterly—dimensionally—verbal.
4) Or: The Mandarin is an exceptionally manneristic "novel of manners."
5) Or: if you squint at it in the proper way, this is a conceptual novel. Kunin supplies a 3-page synopsis that you need not read past, excepting you wish to satisfy your curiosity regarding the novel's execution. Quoted in full, however, I find that this explanation is just a scheme for disclosing a question that, in order to be dramatic, cannot remain undisclosed; that is, must be secret, only formerly. Is this synopsis a lie?
6) In a sense, the book is naming itself every time one look at its cover or spine, insisting that it has to remind you that it is a novel, a book that has to be taken "seriously." And, as much as this title's prodding is about a kind of salesmanship, the relationship between word and world is more suspect than that. Most "things" can't speak the way a book can, nor do they suffer the arc of the Lomans. (The main character and narrator upon whom Kunin depends is a Willy.)
7) And what is a mandarin anyway? A living etymology, thus a kind of fossil, a word that survives despite going largely unused; a museum exhibit that does not have to be put on wheels because it installs itself everywhere around you the moment you decide to judge it into being. (And every time you recall Henry James.). Mandarin: it's a pejorative, and what makes our mandarins so worthy of disdain—and so funny—is the complete un-self-consciousness (rather: blind narcissism) of the pose. Such is pedantry, this trying-so-hard-all-you-do-is-drown-flailing-in-gelatinous-effort. Even if taken as an adjective, "mandarin" is a point-of-view compact in its three syllables. An evaluation, and a coping with something which looks familiar but which we, uttering, would like to believe has naught to do with us or our position. But the use of a term like this is a power-play: it elevates us, uttering, to some superior vantage from which we can describe a sham noble. And phoniness makes of such rare essence the cheapest cardboard: what a noun like "elitism" names, just as that The here qualifies and specifies. So I think.
8) As one reads, one discovers that The Mandarin is a novel-in-conversation, but it could not be more different in tone and (apparent) intent than similar "experiments" such as Duras' The Square or Gaddis' JR, to take but two examples. For the exchanges here do not move toward revelation via vaguely Socratic gestures; unlike The Square, very little is asked in The Mandarin. Instead, much is pronounced. But neither does the narrator evince an obsessive's commitment to "how people really talk", the kind of photorealistic prose that, in Gaddis, turns everything into plastic and a kind of dense, you'll-knock-your-knee-or-elbow-against-it nausea.
9) Rather, Kunin, through careful application of a few linguistic effects, seems to be after a parody of novelistic prosody. Example: here are "characters" who speak without relying on contractions.
"I have written a play for Natasha," said Hallamore. (9) "Without our burnt offerings," said Mercy, "St. Peter would have to eat in the kitchen." "St. Peter must love abandoned restaurants, because he made so many of them," said Hallamore. (13)
Perhaps it is not so much that contractions are absent here, absence in this instance implying a forgetting, or a negligence: a grammar active, but only in the form of exiting / having left the stage. Rather, the contractions feel avoided. They have been deliberately excluded, so long as the characters retain control of their emotions or do slip from the perch of their poses.
And there's softness for you: shit. [Mercy speaking] (5)
10) Grammar is being acted upon. All of which reinforces or superimposes again, needlessly, the presence of authors, narrators and characters (the narrator, Willy, writes novels that may also be soporifics), the last two of which are authors manqué anyway. READ MORE >