the sluts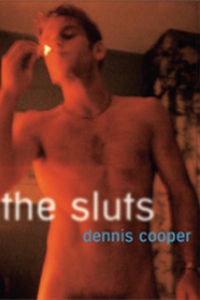 I've already read a lot this year, maybe even more than most other years. Though lately, in the past few weeks, I've found my attention kind of skewed up, which I guess is part of the pattern of reading: it comes and goes.
When I get out of the dire want to spend hours on my back looking at sentences, certain moods will come where I can't get more than a page into something, no matter how strong, and it will take something of really strong aura, a riveter, to get me excited again. Something visceral, that grabs me by the throat and says, Bitch, you are going to read this.
This week, for me, it was Dennis Cooper's The Sluts. I picked this up randomly, realizing it was I think the only title of DC's that I hadn't read for some reason. I brought it home in the rain and, having put down the last 8 or 9 books I'd tried to start in weeks beforehand, picked it open just to get a taste.