theology of the body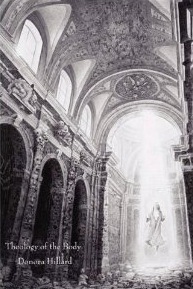 From its first page, Donora Hillard's Theology of the Body presents itself a mesmerizing object of equal command and restraint. It defines, in the remove-voice of not a narrator, not a guide, but some black sound, the birthplace of the title, via 3 thin lines which crown a long white blank: "Theology of the Body is defined as the study of how God is revealed through the human body; this is also part of Pope John Paul II's title for his collected lectures on the subject. It is being promoted throughout Catholic institutions as a sexual counter-revolution." The remaining white that fills the page floods on, as does, often, the battered brain of the encroached.
Most of the body of the book itself continues on in this thick statement/relief shriek arrangement: as if someone has eaten through the mantle of the paper, leaving selected words and languages as would the aggressor leave the remains. Hillard does not require a lot of language to implant the tone of stroke. Many poems are a few calmly stated lines.
Winter, Michigan

you pinned me up against an oak in a park near where you were young and your hand
sang inside and you were the resurrection you were violent light behind the mountain